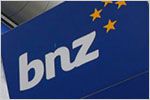 BNZ have announced proposed plans to restructure their business in New Zealand. We understand many jobs could be at risk.
The bank has announced in October 2016 that they are considering a major restructuring of its head office in Auckland. Management employees are expected to be out of a job once completed.
Sources initially stated that over 600 of BNZ's employees could have been affected by the restructuring. However in the past week, Annie Brown, the Director of People and Communication, stated that it was fewer than 100.
A few banks around New Zealand are starting to cut jobs, with Westpac and ANZ both closing branches in rural areas.
Banking expert, David Tripe, concluded that it may have been possible that BNZ's parent bank, NAB, had instructed it to cut costs. This is just pure speculation of course.
Spokesperson, Katherine Cornish, said that the bank would try to redeploy employees who will be affected, into other areas of the bank. Although we aren't sure how this would work given the large number of lay offs.
In the six months to March 2016, BNZ reported a new profit drop of 16%. The cause of the drop was stated to be from financial instruments, mainly due to the falling NZ dollar.
BNZ currently has around 760 part time staff, and over 4500 working full time position.