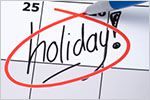 Welcome to the wonderful year of 2018 – boy are we glad it's filled with public holidays as well! Whether you're wondering which days you'll be taking off work, or double checking to make sure the banks aren't closed – we're sure you'll find all of New Zealand's public holidays for 2018 listed in the table below quite useful. Enjoy!
| Bank Holiday | Date |
| --- | --- |
| New Year's Day | 1st January, 2018 (Monday) |
| Day after New Year's Day | 2nd January, 2018 (Tuesday) |
| Wellington Anniversary | 22nd January, 2018 (Monday) |
| Auckland Anniversary | 29th January, 2018 (Monday) |
| Nelson Anniversary | 29th January, 2018 (Monday) |
| Waitangi Day | 6th February, 2018 (Tuesday) |
| Taranaki Anniversary | 12th March, 2018 (Monday) |
| Otago Anniversary | 26th March, 2018 (Monday) |
| Good Friday | 30th March, 2018 (Friday) |
| Easter Monday | 2nd April, 2018 (Monday) |
| Easter Tuesday | 3rd April, 2018 (Tuesday) |
| Southland Anniversary | 3rd April, 2018 (Tuesday) |
| ANZAC Day | 25th April, 2018 (Wednesday) |
| Queen's Birthday | 4th June, 2018 (Monday) |
| South Canterbury Anniversary | 24th September, 2018 (Monday) |
| Hawke's Bay Anniversary | 19th October, 2018 (Friday) |
| Labour Day | 22nd October, 2018 (Monday) |
| Marlborough Anniversary | 29th October, 2018 (Monday) |
| Canterbury Anniversary | 16th November, 2018 (Friday) |
| Westland Anniversary | 3rd December, 2018 (Monday) |
| Chatham Islands Anniversary | 3rd December, 2018 (Monday) |
| Christmas Day | 25th December, 2018 (Tuesday) |
| Boxing Day | 26th December, 2018 (Wednesday) |
All of these dates have been confirmed with the New Zealand government. If you'd like, you can check out more information about each holiday here. Or – keep scrolling to find out some more about the major ones.
Feel free to use any of the tools above to print, save, or export the holiday dates to use as you see fit. We'd recommend the PDF or Excel version of the dates, that way you can preview what you'll be getting before you print it off if you do.
Another note – all of these holidays to apply to the BIG 4 banks as you see above (ANZ, BNZ, Westpac, and ASB if you can't see the image). They'll also apply to the majority of the other banks currently operating in New Zealand.
Speaking of, we have a neat little section on the site where you can check out all the banks in New Zealand and general information about them. Some of this information includes contact details, branch, and ATM locations, where their headquarters are located, and their SWIFT codes (if they have any that is).
If you are after specific SWIFT Codes, we'll save you some time and point you straight to ANZ's codes or ASB's – two of New Zealand's most popular codes.
Holiday Info
As you may or may not know, New Zealand was actually made up of multiple provinces until the abolition of the provincial government way back when in 1876. From that day forward, each province joined together to form the modern day New Zealand.
In memory of each of the provinces, the current New Zealand government still holds a public and banking holiday on the day each one of the provinces was founded.
Taranaki Anniversary
Originally known as the New Plymouth Province, it was renamed to the Taranaki Province 6 years after its formation in 1859.
The province had four superintendents over the course of its lifetime:
Charles Brown
George Cutfield
Henry Robert Richmond, and
Frederic Carrington
Southland Anniversary
The Southland Province first came together in 1861, after it split off from the Otago Province. They didn't like being on their own, though, as they quickly rejoined Otago in 1970. As you now know, they only had a brief 6 years together before the formation of the current government.
April 1st, 1861 is the official anniversary and public holiday date, but as this is sometimes around the Easter period, the Southland Anniversary is sometimes pushed as far back as April 3rd (which it exactly on for 2018).
Southland had three superintendents over its 15-year life:
James Alexander Robertson Menzies
John Parkin Taylor
William Wood
Westland Anniversary
Established on December 1st, 1973, the Westland Province had one of the shortest lifespans of them all. A mere three years were to pass before New Zealand would gather together all its provinces and form a single group.
In 2018, as December 1st is a Saturday, the public holiday will be pushed back to December 3rd (Monday).
Only a single man held the superintendent title during its lifetime:
Conclusion
If you're curious, you're more than welcome to compare these dates to those of 2017's public holidays. It can be quite interesting to see just how dramatic the changes can be from one year to the next (in terms of the days the holidays land on).
As well, if you believe there's been an error with any of the dates listed above, or one of the holidays it listed incorrectly, please contact us! We aim to keep the site as accurate as possible and all the information we receive from our readers helps greatly.
Thank you!