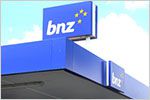 BNZ has posted is full year financial statements which show a profit drop of $125 million across the bottom line.
The bank, owned by NAB, posted a full year profit to 30 September 2016 of $913 million. Down from $1.038 billion the previous financial year.
BNZ stated profits fell slightly due to lower trading income in the country, and losses on hedging derivatives.
CEO of BNZ, Anthony Healy, currently takes homes around $2.1 million in salary each year. He still insists that his strategy is working.
"Our strategy is delivering for the bank, despite a challenging year in a highly competitive banking environment and with higher funding costs affecting margins."
Net interest margin, the difference between what the bank borrows at compared to what it lends at, fell 19 basis points to 2.25%.
BNZ believes this strongly reflects the current highly competitive industry, a decrease in the wholesale interest rates, and rising funding costs.
With the introduction of online banking savings banks $000's in expenses, BNZ made the move and migrated over 500,000 of its customer to their new online banking system.
This will continue to occur as more and more banks slowly close down unprofitable branches around the country and move to online and mobile banking.
Healy has remained as the CEO since May 2014, do you believe he has what it takes to turn the bank around to growth again?