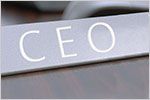 We take a look at all the CEOs of the banks currently listed here. Find out how long they've been at the bank, and how much they're getting paid.
---
ANZ –
David Hisco
David has had quite a long career at ANZ. Over the past 30 years he's held a number of senior executive roles in both the commercial and retail sectors. Just recently in 2013, he won the Asian Banker CEO Leadership Achievement Award for New Zealand.
He also has a number of international recognised qualifications. Amongst those include and Executive MBA, a Fellow of Finsia and a Fellow of the CPA as well.
2015 Salary: $4,180,000
---
ASB –
Barbara Chapman
Barbara commenced here career back in 1994, originally with the Commonwealth Bank Group. From there, she has moved on to become the CEO of ASB in New Zealand. Holding the position since 26 April, 2011.
She has won several awards, including "Marketer of the Year" for the whole is New Zealand.
2015 Salary: Not public ($2,800,000 in 2012)
---
Bank of Baroda –
P.S. Jayakumar
As the Bank of Baroda operates only as a subsidiary of its parent company in New Zealand, there is no official CEO for its NZ operations. The Managing Director in New Zealand is Mr. Prahlad Das Gupta.
Jayakumar has only been the CEO of the group for just over a year, since October 2015.
2015 Salary: $1,111,975
---
Bank of China –
David Lei Wang
Even though the Bank of China is again operating as a subsidiary, this group has chosen to appoint a CEO to its operations in the country. David has been the CEO here in New Zealand since November 2014.
His career at the bank started in 1993, as the General Manager of Private Banking in its Beijing operations. He held that position for 18 years.
2015 Salary: Not public
---
Bank of India –
Melwyn O. Rego
Inline with Bank of Baroda, the Bank of India only has the Managing Director, R.A. Jha,  at the head of its operations in New Zealand. Melwyn is the CEO of the whole banking group that spans across many countries.
He has served as the CEO since August 14, 2015, being his first position as the bank. Previous employers include IDBI Bank, where he positioned the Deputy Managing Director and Executive Director roles.
2015 Salary: Not public
---
Bank of Tokyo Mitsubishi UJF –
Michael Ryff
As the General Manager and the CEO in New Zealand, Michael stands at the helm of the banks activities across the country. Unfortunately were unable to attain information as to how long he has held the position.
The earliest records on their website show he has been the CEO since at least June 2011.
Michael has a Bachelor of Science from the Auckland University.
2015 Salary: Not public
---
BNZ – 
Anthony Healy
Anthony initially joined Bank of New Zealand back in 2009 and was in turn promoted to the CEO and Managing Director position from 12 May 2014.
He has a number of highly recognised qualifications. Graduate Diploma in Economics, Bachelor of Science, Graduate Diploma in Finance, which were all attained from the University of Melbourne.
2015 Salary: $2,130,000
---
Citibank – 
Michael Corbat
As you may have noticed that Citibank only has one branch in New Zealand, there is no need to appoint another CEO for its operations here. Michael Corbat remains the CEO of Citigroup in which Citibank its one of its business groups.
Derek Syme is the head of its New Zealand branch, with the official title of Citi Country Officer.
2015 Salary: $16,500,000
---
Cooperative Bank –
Bruce McLachlan
Bruce has headed the bank as CEO since June 2012. He has spent over 30 years working in the financial services industry in both New Zealand and Australia. For a brief stint in 2008/2009, Bruce was the acting CEO of Westpac New Zealand as well.
Qualifications were attained from the Victoria University Wellington, where he completed a Bachelor of Commerce and Administration.
2015 Salary: Not public
---
Heartland Bank –
Jeff Greenslade
With over 30 years of banking and financial experience, most in senior executive positions, Jeff knows what he's doing. He has previously worked with ANZ, UDF Finance Limited, and The National Bank of New Zealand.
He joined the Heartland group in 2009 under MARAC Finance Limited. This position was held as the CEO until he was eventually promote to the CEO of the whole Heartland Group.
2015 Salary: $2,118,612
---
HSBC –
Chris Russel
Chris has been appointed as the new CEO of HSBC New Zealand from January 2016. He has been an employee of the HSBC group since 2005, working as the head of banking in Australia.
As one of the newest appointed positions on the list, Chris has yet to receive a full year's salary.
2015 Salary: Not available
---
Industrial and Commercial Bank of China – 
Mark Blucher
After serving as the interim CEO from October 2012, he Mark was handed the full official position in November 2013. It's single New Zealand branch does not has an official CEO.
2015 Salary: $430,095
---
Kiwibank –
Paul Brock
As an initial part of the team when Kiwibank was created in 2002, it's quite fitting the he now holds the position of the CEO of the whole bank. Paul has an extensive background in financial services, including high level positions in both Trustbank and Westpac.
Claiming they are a bank made for New Zealanders, we're quite surprised that they have not released salaries for their executives and directors.
2015 Salary: Not public
---
Kookmin Bank –
Jong-Gyu Yoon
Jong-Gyu has held the CEO position from November 2014. He took the reign from Lee Kun Ho who resigned after being reprimanded by South Korea's financial watchdog following a series of serious mistakes.
Kookmin Bank's New Zealand operations are headed by Hong Lee, who serves as the Executive Director in it's Auckland branch.
2015 Salary: Not public
---
Rabobank –
Daryl Johnson
Announced just recently in July 2016, Daryl has take over the position of CEO from Crawford Taylor who has served as the interim CEO since October 2015.
Daryl is originally from Western Australia where he attained his Bachelor of Business from Curtin University, and an MBA from Murdoch University.
2015 Salary: Not public
---
SBS Bank –
Shaun Drylie
Shaun originally started his career in the banking industry as a teller in Hokitika. From there he worked his way up to more senior positions entailing General Management of its teams.
He is currently responsible for the activities of SBS Bank as well as its three subsidiaries.
2015 Salary: Not public
---
TSB Bank – 
Kevin Murphy
Kevin has worked with TSB for nearly 40 years, all at senior executive levels. He was appointed the CEO and Managing Director in 2010, and was awarded a Fellowship with CA in 2013.
Qualifications were attained form Francis Douglas Memorial College back in 1977.
2015 Salary: Not public
---
Westpac –
David McLean
David was originally appointed the Head of Westpac New Zealand in 2004, but then moved to the United States to take up the Managing Director position at its New York branch.
June 2014 saw David return to New Zealand to become the acting CEO of the bank. 7 months later, he was officially appointed as the CEO of Westpac New Zealand.
2015 Salary: $1,588,240
---