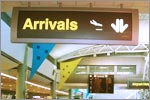 All New Zealand's major airports, including Auckland, Wellington, Christchurch, and Dunedin can offer travellers bank branches, ATMs and currency exchange counters.
Banks in Auckland Airport
Auckland is the largest city in New Zealand, located in the upper North Island. Auckland International Airport is the country's largest airport, in which the following banks are located: ANZ, BNZ, ASB, Kiwibank and Westpac.
There are also ten Travelex foreign exchange counters available in both international and domestic terminals, which can provide an exchange for all major currencies. Travelex accepts cash, Visa, MasterCard and Dinners Club cards.
ANZ has a branch located in the Auckland Airport Shopping Centre, available five days a week. There are also five ANZ ATMs located in and around the airport, which are all wheelchair accessible and multi-lingual.
BNZ also has a branch in the Auckland Airport Banking Centre, on Tom Pearce Drive, with an attached ATM. One of the more exciting branches, it has FREE Wifi, a kids playground and is also wheelchair-accessible.
The ASB bank's Auckland International Airport branch is situated outside the international arrivals terminal, on Ray Emery Drive, and is open 24/7.
Unfortunately Westpac does not have a branch inside the airport itself (the closest one can be found in Papatoetoe), but it does have three ATMs inside the terminals. One of which can be found in the Airport Shopping Centre, on John Goulter Drive.
Banking facilities nearby Auckland Airport:
ASB Bank New Zealand
12 Jellicoa Street
1010 Auckland, New Zealand
Westpac Bank
Ray Emery Drive
1010 Auckland, New Zealand
Bank of New Zealand
Tom Pearce Drive
1010 Auckland, New Zealand
Banks in Wellington Airport
Wellington is the country's capital and the second largest city, and as you guessed it, Wellington International is the second busiest airport.
Travelex foreign currency exchange facilities are available in Wellington International Airport at Airside Departures, Shop 17, on Level 1.
Most of the airport's banking facilities are in the main terminal building. Banks that have facilities here include Westpac, ASB, ANZ and BNZ.
Banking facilities nearby Wellinton Airport:
ANZ Bank
247 Cuba Street
6022 Wellington, New Zealand
Bank of New Zealand
Stewart Duff Drive
6022 Wellington, New Zealand
Westpac Bank
11 Onepu Road
6022 Wellingtonm, New Zealand
Banks in Christchurch Airport
Christchurch is the New Zealand's third major city, largest on the South Island.
BNZ is the only bank with a branch at Christchurch Airport, located near Travelex, in the Check-in Hall. It is open until 6:00 pm on weekdays and until 2:00 pm on weekends.
ASB, ANZ and Travelex all have ATMs in the airport itself, some of which dispense both Australian and New Zealand dollars.
Travelex currency exchange counter is on the ground floor of the check-in Hall.
Banking facilities nearby Christchurch Airport:
ASB Bank
418 Main S Road
8042 Christchurch, New Zealand
Bank of New Zealand
27 Durey Road
8053 Christchurch, New Zealand
Banks in Dunedin Airport
The only banking facility available at the Dunedin Airport is a Westpac ATM, located at the front entrance of the airport.
Banking facilities nearby Dunedin Airport:
The Bank of New Zealand
86 Hillside Road
9012 Dunedin, New Zealand
ANZ Banking Group
122 Gordon Road
9024 Mosgiel, New Zealand
Westpac Bank
221 Main S Rd
9018 Dunedin, New Zealand