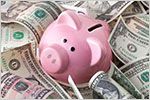 It's November! Summer is nearly here and we're taking a look at 5 of the BEST Savings Accounts in New Zealand.
Hello! And welcome to an awesome new series of articles we are going to start posting on this site.
Everyone loves saving money, so we though, why not provide our readers with the absolute best savings accounts that are currently on offer from New Zealand banks!
With the official cash rate sitting at 2.0%, you find it tough to find a savings account offering above 3.0% at the moment.
The table below shows the four banks we believe to be currently offering the best terms regarding fees, interest rates, bonus interest rates, and any other conditions that the account may have.
Bank of New Zealand (BNZ) was close to make it on the list, however with their "Rapid Save" account charging $5 per withdrawal after the first, it had to be cut.
Heartland Bank offering the "Direct Call Account" with no fees across the board, and a flat 3.00% interest rate. Combined with no requirements, no max withdrawals, and no maximum deposit, we believe this account to be the clear winner.
See the table below to compare all the accounts. Feel free to find out some more information by click on the link at the bottom of each column.
| | | | | |
| --- | --- | --- | --- | --- |
| Bank | Cooperative Bank | Heartland Bank | Rabodirect | ASB |
| Product Name | Step Saver | Heartland Direct Call Account | PremiumSaver | Savings Plus |
| Account Fees | $0 | $0 | $0 | $0 |
| ATM Transaction Fee | $2.50 | $0 | $0 | $0 |
| Min Deposit | $0 | $0 | $0 | $0 |
| Max Deposit | – | – | $100,000 | $2,000,000 |
| Base Interest Rate | 0.25% | 3.00% | 1.00% | 0.50% |
| Bonus Interest Rate | 2.40% | 0.00% | 2.00% | 2.25% |
| Total with Bonus | 2.65% | 3.00% | 3.00% | 2.75% |
| Bonus Requirement | Balance higher at the end of month, no more than one withdrawal | – | Deposit $50/month (excl. interest earned) | No withdrawals during a calendar quarter |
| Bonus Length | – | – | – | – |
| Notes | $2.50 fee for EFTPOS purchases | – | Amounts above $100,000 earn 1.50% | 0.85% bonus interest if you make one withdrawal/quarter |
| Link | Website | Website | Website | Website |