The full list of Westpac bank branches in South Island, New Zealand, with contact information, branch locations and addresses.
Head down south to the South Island for some cooler weather and even more Westpac branches. There are a total of 54 locations where you can visit a Westpac bank.
The majority of them are in
Christchurch
itself, but there are also some around
Dunedin, Queenstown and Invercargill.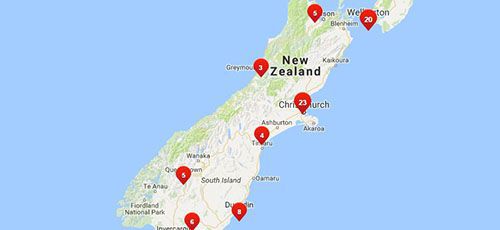 Westpac Branch Locations South Island
Type first letters of branch name, location name or address:
Westpac Branch Rangiora
13 – 15 Ashley Street, Rangiora 7400, New Zealand
Phone: (03) 3132510
Westpac Branch Queenstown
59 Beach St, Queenstown, Otago 9300, New Zealand
Phone: (03) 4424525
Westpac Branch Hornby
Hornby Mall, 418 Main South Road, Hornby, Christchurch, New Zealand
Phone: (03) 3491600
Westpac Branch New Brighton
54/56 Brighton Mall, New Brighton, Canterbury 8061, New Zealand
Phone: (03) 3880983
Westpac Branch Riccarton
129 Riccarton Road, Westfield Mall, Christchurch
Canterbury, New Zealand
Phone: (03) 3438499
Westpac Branch Upper Riccarton
3 Waimairi Rd, Christchurch, Canterbury 8041, New Zealand
Phone: (03) 3437670
Westpac Branch Ashburton
122 Tancred St, Ashburton, Canterbury 7700, New Zealand
Phone: (03) 3078200
Westpac Branch Geraldine
33 Talbot St, Geraldine, Canterbury 7930, New Zealand
Phone: (03) 6931100
Westpac Branch Hokitika
97 Revell St, Hokitika, West Coast 7810, New Zealand
Phone: (03) 7568330
Westpac Branch Papanui
45D Main North Rd, Papanui, Canterbury 8052, New Zealand
Phone: (03) 3540600
Westpac Branch Sydenham
443 Colombo St, Sydenham, Canterbury 8023, New Zealand
Phone: (03) 3530615
Westpac Branch Dunedin North
396 George St, North Dunedin, Otago 9016, New Zealand
Phone: (03) 4748001
Westpac Branch Timaru
243 Stafford St, Timaru, Canterbury 7910, New Zealand
Phone: (03) 6841804
Westpac Branch Moray Place
106 George St, Dunedin Central, Otago 9016, New Zealand
Phone: (03) 4749890
Westpac Branch Gore
36 Mersey St, Gore, Southland 9710, New Zealand
Phone: (03) 2039244
Westpac Branch Oamaru
155 Thames St, Oamaru, Canterbury, 9400, New Zealand
Phone: (03) 4331326
Westpac Branch Ranfurly (CLOSING NOVEMBER 2016)
26 Charlemont St E, Ranfurly, Otago 9332, New Zealand
Phone: (03) 4441451
Westpac Branch Winton
284 Great North Rd, Winton, Southland 9720, New Zealand
Phone: (03) 2366023
Westpac Branch Terrace Junction
1092 Frankton Rd, Frankton, Otago, 9300, New Zealand
Phone: (03) 4424525
Westpac Branch Amberley
113 Carters Rd, Amberley, Canterbury, 7410, New Zealand
Phone: (03) 3149700
Westpac Branch Halswell
346 Halswell Rd, Halswell, Canterbury 8025, New Zealand
Phone: (03) 3225700
Westpac Branch Kaiapoi
77 Hilton St, Kaiapoi, Canterbury 7630, New Zealand
Phone: (03) 3279700
Westpac Branch Lincoln
18 Gerald St, Lincoln, Canterbury 7608, New Zealand
Phone: (03) 3256940
Westpac Branch Eastgate
4 Buckleys Rd, Linwood, Canterbury 8062, New Zealand
Phone: (03) 3814864
Westpac Branch Barrington
256 Barrington St, Barrington Shopping Centre, Christchurch
Canterbury, New Zealand
Phone: (03) 3378545
Westpac Branch Ferrymead
1005 Ferry Rd, Christchurch, Canterbury 8023, New Zealand
Phone: (03) 3842109
Westpac Branch The Palms
20/22 Marshland Rd, Shirley, Canterbury, 8061, New Zealand
Phone: (03) 3850617
Westpac Branch Bishopdale (CLOSING NOVEMBER 2016)
15 Bishopdale Ct, Bishopdale, Canterbury 8053, New Zealand
Phone: (03) 3593918
Westpac Branch Fendalton Mall (CLOSING NOVEMBER 2016)
19-23 Memorial Ave, Ilam, Canterbury 8053, New Zealand
Phone: (03) 3510109
Westpac Branch Merivale
215 Papanui Rd, Merivale, Canterbury 8014, New Zealand
Phone: (03) 3550165
Westpac Branch Northtown
98 Evans St, Timaru, Canterbury 7910, New Zealand
Phone: (03) 6841400
Westpac Branch Fairlie (CLOSING NOVEMBER 2016)
85 Main St, Fairlie, Canterbury 7925, New Zealand
Phone: (03) 6858571
Westpac Branch Mosgiel
112 Gordon Rd, Mosgiel, Otago 9024, New Zealand
Phone: (03) 4899212
Westpac Branch Gardens (CLOSING NOVEMBER 2016)
2 N Rd, North East Valley, Otago 9010, New Zealand
Phone: (03) 4730721
Westpac Branch Green Island
212 Main South Rd, Green Island, Otago 9018, New Zealand
Phone: (03) 4880806
Westpac Branch South Dunedin
216 King Edward St, South Dunedin, Otago 9012, New Zealand
Phone: (03) 4560735
Westpac Branch Alexandra
40 Tarbert St, Alexandra, Otago 9320, New Zealand
Phone: (03) 4402237
Westpac Branch Balclutha
39 Clyde St, Balclutha, Otago 9230, New Zealand
Phone: (03) 4184900
Westpac Branch Wanaka
15 Helwick St, Wanaka, Otago 9305, New Zealand
Phone: (03) 4439755
Westpac Branch Invercargill South
241 Elles Rd, Strathern, Southland 9812, New Zealand
Phone: (03) 2181409
Westpac Branch Windsor
66 Windsor St, Windsor, Southland 9810, New Zealand
Phone: (03) 2171506
Westpac Branch Te Anau (CLOSING NOVEMBER 2016)
Milford Rd, Te Anau, Southland 9600, New Zealand
Phone: (03) 2498604
Westpac Branch Invercargill
62 Kelvin St, Invercargill, Southland 9810, New Zealand
Phone: (03) 2135900
Westpac Mobile Branch
Re:START Mall, 108 Cashel Street, Christchurch 8011, New Zealand
Phone: (03) 385 0205
Westpac HelpStation Rolleston
9 Masefield Drive, Rolleston, Christchurch, New Zealand
Phone: (03) 3477700
Westpac HelpStation St Martins
92 Wilsons Rd, St Martins, Canterbury 8022, New Zealand
Phone: (03) 3378400
Westpac Branch Greymouth
128 Mackay St, Greymouth, West Coast, 7805, New Zealand
Phone: (03) 7683208
Westpac Branch Hokitika
97 Revell St, Hokitika, West Coast 7810, New Zealand
Phone: (03) 7568330
Westpac Branch Westport
143 Palmerston St, Westport, West Coast 7825, New Zealand
Phone: (03) 7888155
Westpac Branch Motueka
165 High St, Motueka, Tasman 7120, New Zealand
Phone: (03) 5281204
Westpac Branch Nelson
168 Trafalgar St, Nelson, Nelson 7010, New Zealand
Phone: (03) 5459709
Westpac Branch Richmond
216 Queen St, Richmond, Tasman, 7020, New Zealand
Phone: (03) 5439267
Westpac Branch Stoke (CLOSING NOVEMBER 2016)
11 Putaitai St, Stoke, Nelson 7011, New Zealand
Phone: (03) 5478509
Westpac Branch Takaka (CLOSING NOVEMBER 2016)
64 Commercial St, Takaka, Tasman 7110, New Zealand
Phone: (03) 5258952