The full list of Westpac bank branches in North Island, New Zealand, with contact information, branch locations and addresses.
As with most of the other
New Zealand banks
, Westpac also has the vast majority of its branches situated on the North Island. With nearly 75% of the population up there, it's a smart move by all.
Being one of the
largest banks in the country
has allowed them to nearly be able to service every single city and town that requires it. You'll see below just how vast their branch network is.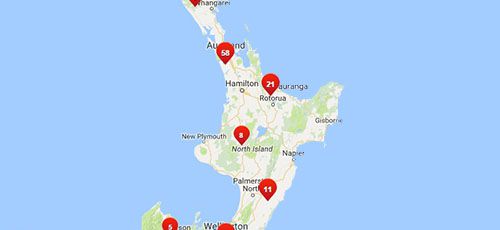 Westpac Branches North Island
Type first letters of branch name, location name or address:
Westpac Branch: Kaikohe
137 Broadway, Kaikohe, Northland 0405, New Zealand
(09) 4052943
Westpac Branch: Kaitaia
96 Commerce St, Kaitaia, Northland 0410, New Zealand
(09) 4086104
Westpac Branch: Kamo (CLOSING NOVEMBER 2016)
545 Kamo Rd, Kamo, Northland 0112, New Zealand
(09) 4354756
Westpac Branch: Kerikeri
59 Kerikeri Rd, Kerikeri, Northland 0230, New Zealand
(09) 4075721
Westpac Branch: Paihia
76 Marsden Rd, Paihia, Northland 0200, New Zealand
(09) 4026320
Westpac Branch: Warkworth
4/10 Baxter St, Warkworth, Auckland 0910, New Zealand
(09) 4250843
Westpac Branch: Whangarei
36 Rathbone St, Whangarei, Northland 0110, New Zealand
(09) 4302896
Westpac Branch: Dargaville
76 Victoria St, Dargaville, Northland 0310, New Zealand
(09) 4393590
Westpac Branch: Ruakaka
Peter Snell Rd, Ruakaka, Northland 0116, New Zealand
(09) 4328395
Westpac HelpStation Branch: Silverdale
16 Wainui Rd, Silverdale, 0932, New Zealand
(09) 4261884
Westpac Branch: 79 Queen St
79 Queen St, Auckland Central, Auckland 1010, New Zealand
(09) 3024221
Westpac Branch: Birkenhead
29 Birkenhead Ave, Birkenhead, Auckland 0626, New Zealand 
(09) 4803313
Westpac Branch: Blockhouse Bay
507 Blockhouse Bay Rd, Blockhouse Bay, Auckland 0600, New Zealand  
(09) 6270616
Westpac Branch: Henderson
362 Great North Rd, Henderson, Auckland 0612, New Zealand
(09) 8368472
Westpac Branch: Lincoln Road Henderson
192-198 Universal Dr, Henderson, Auckland, 0610, New Zealand
(09) 8368143
Westpac Branch: Howick
19 Wellington St, Howick, Auckland 2014, New Zealand
(09) 5337615
Westpac Branch: Papatoetoe
194 Great South Rd, Papatoetoe, Auckland 2025, New Zealand
(09) 2790861
Westpac Branch: Milford
198 Kitchener Rd, Milford, Auckland 0620, New Zealand
(09) 4884345
Westpac Branch: Lynnmall
3058 Great North Road,, New Lynn, Auckland 0600, Newleand
(0800) 400600
Westpac Branch: Newmarket
298 Broadway, Auckland, 1023, New Zealand
(09) 5209117
Westpac Branch: Botany
451 Ti Rakau Dr, Manukau, 2013, New Zealand
(09) 2742330
Westpac Branch: Manukau City
652 Great South Rd, Manukau, Auckland 2104, New Zealand
(09) 2790866
Westpac Branch: Onehunga
179 Onehunga Mall, Onehunga, Auckland 1061, New Zealand
(09) 6348558
Westpac Branch: Otahuhu
10/16 King St, Otahuhu, Auckland 1062, New Zealand
(09) 2704518
Westpac Branch: Mt Eden
184 Dominion Rd, Auckland, 1024, New Zealand
(09) 6385835
Westpac Branch: Penrose
666 Great South Rd, Penrose, Auckland 1061, New Zealand
(09) 5269501
Westpac Branch: Ponsonby
172 Ponsonby Rd, Auckland, 1011, New Zealand
(09) 3607811
Westpac Branch: Remuera
381 Remuera Rd, Remuera, Auckland, 1050, New Zealand
(09) 5294712
Westpac Branch: St Heliers
101/387 Tamaki Dr, Auckland, Auckland 1071, New Zealand
(09) 5750837
Westpac Branch: Takapuna
505 Lake Rd, Takapuna, Auckland, 0622, New Zealand
(09) 4881103
Westpac Branch: Wairau Rd
Wairau Junction, 170 Wairau Road, Wairau Valley, Auckland, 0627, New Zealand
(09) 4416712
Westpac Branch: Mid City
229 Queen St, Auckland, Auckland 1010, New Zealand
(09) 3755881
Westpac Branch: Manurewa
184 Great South Rd, Manurewa, Auckland 2102, New Zealand
(09) 2683925
Westpac Branch: Glenfield
30 Downing St, Glenfield, Auckland, 0629, New Zealand
(09) 4405560
Westpac Branch: St Johns
80 Lunn Ave, Mt Wellington, Auckland 1072, New Zealand
(09) 5744570
Westpac Branch: Mangere
38/44 Orly Ave, Mangere, Auckland 2022, New Zealand
(09) 2570806
Westpac Branch: Highland Park
505 Pakuranga Rd, Bucklands Beach, Auckland 2010, New Zealand
(09) 5350640
Westpac Branch: St Lukes
80 St Lukes Rd, Auckland, Auckland 1025, New Zealand
(09) 8455730
Westpac Branch: Manukau City Mall
Westfield Manukau City, Cnr Gt South and Wiri Station Rd, Auckland 2104, New Zealand
(09) 2628213
Westpac Branch: Pakuranga
1/135 Pakuranga Rd, Pakuranga, Auckland 2010, New Zealand
(09) 5720282
Westpac Branch: Britomart
Te Ara Tahuhu Walkway, Auckland Central, Auckland 1010, New Zealand
(09) 3489391
Westpac Branch: Devonport
45-47 Victoria Rd, Devonport, Auckland 0624, New Zealand
(09) 4450841
Westpac Branch: Viaduct Branch
22 Viaduct Harbour Ave, Auckland, 1010, New Zealand
(09) 3540440
Westpac Branch: Sylvia Park Branch
286 Mount Wellington Highway, Auckland, Auckland 1060, New Zealand
(09) 5741710
Westpac Branch: Botany Junction
277 Te Irirangi Dr, Flat Bush, Auckland 2016, New Zealand
(09) 2717430
Westpac Branch: Northwest
(09) 8333676
Westpac Branch: Migrant Brokers
Te Ara Tahuhu Walkway, Auckland Central, Auckland 1010, New Zealand
(09) 3489388
Westpac Branch: Migrant Britomart West
Te Ara Tahuhu Walkway, Auckland Central, Auckland 1010, New Zealand
(0800) 888228
Westpac Branch: Migrant Britomart Cntrl
Te Ara Tahuhu Walkway, Auckland Central, Auckland 1010, New Zealand
(0800) 888228
Westpac HelpStation Branch: Mt Roskill
22 Stoddard Rd, Auckland, 1041, New Zealand
(09) 6203452
Westpac HelpStation Branch: Epsom
399 Manukau Rd, Epsom, Auckland 1023, New Zealand
(09) 6235550
Westpac Branch: Whitianga
39 Albert St, Whitianga, Waikato 3510, New Zealand
(07) 8662701
Westpac Branch: Morrinsville
187 Thames Street, Morrinsville, Waikato 3300, New Zealand
(07) 8890651
Westpac Branch: Papakura
191 Great South Rd, Papakura, Auckland, 2112, New Zealand
(09) 2964017
Westpac Branch: Pukekohe
5 Hall St, Pukekohe, Auckland 2120, New Zealand
(09) 2371947
Westpac Branch: Thames
515 Pollen St, Thames, Waikato 3500, New Zealand
(07) 8679373
Westpac Branch: Tokoroa
203/209 Leith Pl, Tokoroa, Waikato 3420, New Zealand
(07) 8862501
Westpac Branch: Te Awa The Base
1 Pacific Crescent, Northgate, Waikato 3200, New Zealand
(07) 8509761
Westpac Branch: Takanini
228 Great South Rd, Takanini, Auckland 2112, New Zealand
(09) 2964850
Westpac Branch: Katikati
27 Main Rd, Katikati, Bay Of Plenty 3129, New Zealand
(07) 5492650
Westpac Branch: Hamilton East
20 Clyde St, Hamilton East, Waikato 3216, New Zealand
(07) 8560450
Westpac Branch: Chartwell
228 Comries Rd, Chartwell, Waikato 3210, New Zealand
(07) 8548406
Westpac Branch: Raglan (CLOSING NOVEMBER 2016)
30 Bow St, Raglan, Waikato 3225, New Zealand
(07) 8250601
Westpac Branch: Cambridge
79 Victoria St, Cambridge, Waikato 3434, New Zealand
(07) 8232705
Westpac Branch: Huntly
120 Main St, Huntly, Waikato 3700, New Zealand
(07) 8286704
Westpac Branch: Paeroa
90 Normanby Rd, Paeroa, Waikato 3600, New Zealand
(07) 8629856
Westpac Branch: Te Aroha (CLOSING NOVEMBER 2016)
157 Whitaker St, Te Aroha, Waikato 3320, New Zealand
(07) 8847310
Westpac Branch: Waihi
78 Seddon St, Waihi, Waikato 3610, New Zealand
(07) 8636551
Westpac Branch: Whangamata (CLOSING NOVEMBER 2016)
606 Port Rd, Whangamata, Waikato 3620, New Zealand
(07) 8650100
Westpac Branch: Mt Maunganui
159 Maunganui Rd, Mt Maunganui, Bay Of Plenty 3116, New Zealand
(07) 5751400
Westpac Branch: Rotorua Central
1228 Amohau St, Rotorua, Bay Of Plenty 3010, New Zealand
(07) 3495446
Westpac Branch: Taupo
27 Horomatangi St, Taupo, Waikato 3330, New Zealand
(07) 3772757
Westpac Branch: Te Puke
49 Jellicoe St, Te Puke, Bay Of Plenty 3119, New Zealand
(07) 5730174
Westpac Branch: Whakatane
167 The Strand,, Whakatane 3120, New Zealand
(07) 3079900
Westpac Branch: Gisborne
101 Gladstone Rd, Gisborne, Gisborne 4010, New Zealand
(06) 8631648
Westpac Branch: Wairoa
86 Marine Parade, Wairoa, Hawke's Bay, 4108, New Zealand
(06) 8383141
Westpac Branch: Papamoa
30 Domain Rd, Tauranga, Bay Of Plenty 3118, New Zealand
(07) 5725755
Westpac Branch: Opotiki
118 Church Street, Opotiki, 3122, New Zealand
(07) 3151100
Westpac Branch: Bayfair
Girven Rd, Mt Maunganui, Bay Of Plenty 3116, New Zealand
(07) 5751900
Westpac Branch: Cherrywood (CLOSING NOVEMBER 2016)
32 Cherrywood Dr, Otumoetai, Bay Of Plenty 3110, New Zealand
(07) 5760800
Westpac Branch: Greerton
199 Chadwick Rd, Greerton, Bay Of Plenty 3112, New Zealand
(07) 5773611
Westpac Branch: Cameron Road
573 Cameron Road, Tauranga South, Tauranga 3110, New Zealand
(07) 5773600
Westpac HelpStation Branch: Tauranga Centre
27 Spring St,, Tauranga 3110, New Zealand
(07) 5775443
Westpac Branch: Putaruru (CLOSING NOVEMBER 2016)
16 Princes St, Putaruru, Waikato 3411, New Zealand
(07) 8833608
Westpac Branch: Taumarunui
58 Miriama St, Taumarunui, Manawatu-Wanganui 3920, New Zealand
(07) 8953755
Westpac Branch: Te Awamutu
98 Alexandra St, Te Awamutu, Waikato 3800, New Zealand
(07) 8712404
Westpac Branch: Te Kuiti
113 Rora Street, Te Kuiti, 3910, New Zealand
(07) 8781104
Westpac Branch: Hawera
95 Princes St, Hawera, Taranaki 4610, New Zealand
(06) 2780070
Westpac Branch: 196 Devon St East
196 Devon St E, New Plymouth, Taranaki 4310, New Zealand
(06) 7597882
Westpac Branch: Stratford
212 Broadway, Stratford, Taranaki 4332, New Zealand
(06) 7658798
Westpac Branch: Otorohanga (CLOSING NOVEMBER 2016)
64 Maniapoto St, Otorohanga, Waikato 3900, New Zealand
(07) 8736805
Westpac Branch: 2 Devon St East
2 Devon St E, New Plymouth, Taranaki 4310, New Zealand
(06) 7597852
Westpac Branch: Napier
28 Dickens St, Napier, Hawke's Bay 4110, New Zealand
(06) 8343720
Westpac Branch: Waipukurau
Ruataniwha St, Waipukurau, Hawke's Bay 4200, New Zealand
(06) 8587720
Westpac Branch: Taihape
100 Hautapu St, Taihape, Manawatu-Wanganui 4720, New Zealand
(06) 3882013
Westpac Branch: Carterton (CLOSING NOVEMBER 2016)
57 High St N, Carterton, Wellington, 5713, New Zealand
(06) 3796301
Westpac Branch: Dannevirke
69 High St, Dannevirke, Manawatu-Wanganui 4930, New Zealand
(06) 3744554
Westpac Branch: Feilding
96 Manchester St, Feilding, Manawatu-Wanganui 4702, New Zealand
(06) 3230114
Westpac Branch: Levin
226 Oxford St, Levin, Manawatu-Wanganui 5510, New Zealand
(06) 3675861
Westpac Branch: Marton
262 Broadway, Marton, Manawatu-Wanganui 4710, New Zealand
(06) 3274700
Westpac Branch: Masterton
239 Queen St, Masterton, Wellington 5810, New Zealand
(06) 3705800
Westpac Branch: Pahiatua
120 Main St, Pahiatua, 4910, New Zealand
(06) 3760150
Westpac Branch: Broadway Ave (CLOSING NOVEMBER 2016)
1-17 Broadway Ave, Palmerston North, Manawatu-Wanganui 4410, New Zealand
(06) 3518700
Westpac Branch: Paraparaumu
Coastlands Parade, Paraparaumu, Wellington 5032, New Zealand
(04) 2961481
Westpac Branch: Upper Hutt
152 Main St, Upper Hutt, Wellington 5018, New Zealand
(04) 5276986
Westpac Branch: Wanganui
116 Victoria Ave, Wanganui, Manawatu-Wanganui 4500, New Zealand
(06) 3480206
Westpac Branch: Plaza
84 The Square, Palmerston North, Manawatu-Wanganui 4410, New Zealand
(06) 3557400
Westpac Branch: Terrace End
312/318 Broadway Avenue, Palmerston North, 4414, New Zealand
(06) 3514807
Westpac Branch: Waikanae (CLOSING NOVEMBER 2016)
18 Mahara Pl, Waikanae, Wellington 5036, New Zealand
(04) 2961587
Westpac Branch: Wainuiomata (CLOSING NOVEMBER 2016)
6 Queen St, Wainuiomata, Wellington 5014, New Zealand
(04) 5640148
Westpac Branch: Karori Branch
250 Karori Rd, Karori, Wellington 6012, New Zealand
(04) 4765397