The full list of Westpac bank branches in Auckland, New Zealand, with contact information, branch locations and addresses.
Welcome to
Auckland
! Here you'll find an array of Westpac branches along many of the streets you'll travel. If you head into the CBD itself you're more than guaranteed to walk past one, there's that many.
From
Blockhouse Bay to Papatoetoe
and
Onehunga to Mt Eden
. There are so many branches that if you don't like the teller at one, you can simply drive 5 minutes and visit another one.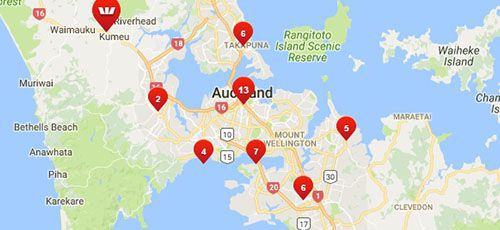 Westpac Auckland Branch Locations
Type first letters of branch name, location name or address:
Westpac Branch: 79 Queen St
79 Queen St, Auckland Central, Auckland 1010, New Zealand
(09) 3024221
Westpac Branch: Birkenhead
29 Birkenhead Ave, Birkenhead, Auckland 0626, New Zealand
(09) 4803313
Westpac Branch: Blockhouse Bay
507 Blockhouse Bay Rd, Blockhouse Bay, Auckland 0600, New Zealand
(09) 6270616
Westpac Branch: Henderson
362 Great North Rd, Henderson, Auckland 0612, New Zealand
(09) 8368472
Westpac Branch: Lincoln Road Henderson
192-198 Universal Dr, Henderson, Auckland, 0610, New Zealand
(09) 8368143
Westpac Branch: Howick
19 Wellington St, Howick, Auckland 2014, New Zealand
(09) 5337615
Westpac Branch: Papatoetoe
194 Great South Rd, Papatoetoe, Auckland 2025, New Zealand
(09) 2790861
Westpac Branch: Milford
198 Kitchener Rd, Milford, Auckland 0620, New Zealand
(09) 4884345
Westpac Branch: Lynnmall
3058 Great North Road,, New Lynn, Auckland 0600, New Zealand
(0800) 400600
Westpac Branch: Newmarket
298 Broadway, Auckland, 1023, New Zealand
(09) 5209117
Westpac Branch: Botany
451 Ti Rakau Dr, Manukau, 2013, New Zealand
(09) 2742330
Westpac Branch: Manukau City
652 Great South Rd, Manukau, Auckland 2104, New Zealand
(09) 2790866
Westpac Branch: Onehunga
179 Onehunga Mall, Onehunga, Auckland 1061, New Zealand
(09) 6348558
Westpac Branch: Otahuhu
10/16 King St, Otahuhu, Auckland 1062, New Zealand
(09) 2704518
Westpac Branch: Mt Eden
184 Dominion Rd, Auckland, 1024, New Zealand
(09) 6385835
Westpac Branch: Penrose
666 Great South Rd, Penrose, Auckland 1061, New Zealand
(09) 5269501
Westpac Branch: Ponsonby
172 Ponsonby Rd, Auckland, 1011, New Zealand
(09) 3607811
Westpac Branch: Remuera
381 Remuera Rd, Remuera, Auckland, 1050, New Zealand
(09) 5294712
Westpac Branch: St Heliers
101/387 Tamaki Dr, Auckland, Auckland 1071, New Zealand
(09) 5750837
Westpac Branch: Takapuna
505 Lake Rd, Takapuna, Auckland, 0622, New Zealand
(09) 4881103
Westpac Branch: Wairau Rd
Wairau Junction, 170 Wairau Road, Wairau Valley, Auckland 1010, New Zealand
(09) 4416712
Westpac Branch: Mid City
229 Queen St, Auckland, Auckland 1010, New Zealand
(09) 3755881
Westpac Branch: Manurewa
184 Great South Rd, Manurewa, Auckland 2102, New Zealand
(09) 2683925
Westpac Branch:Papakura
191 Great South Rd, Papakura, Auckland, 2112, New Zealand
(09) 2964017
Westpac Branch: Pukekohe
5 Hall St, Pukekohe, Auckland 2120, New Zealand
(09) 2371947
Westpac Branch: Whangaparaoa
1/719 Whangaparaoa Rd, Manly, Auckland, 0930, New Zeland
(09) 4246231
Westpac Branch: Albany
219 Don Mckinnon Dr, Albany, Auckland 0632, New Zealand
(09) 4151150
Westpac Branch: Glenfield
30 Downing St, Glenfield, Auckland, 0629, New Zealand
(09) 4405560
Westpac Branch: St Johns
80 Lunn Ave, Mt Wellington, Auckland 1072, New Zealand
(09) 5744570
Westpac Branch: Huapai
306 Main Rd, Huapai, Auckland 0810, New Zealand
(09) 4122830
Westpac Branch: Mangere
38/44 Orly Ave, Mangere, Auckland 2022, New Zealand
(09) 2570806
Westpac Branch: Takanini
228 Great South Rd, Takanini, Auckland 2112, New Zealand
(09) 2964850
Westpac Branch: Highland Park
505 Pakuranga Rd, Bucklands Beach, Auckland 2010, New Zealand
(09) 5350640
Westpac Branch: St Lukes
80 St Lukes Rd, Auckland, Auckland 1025, New Zealand
(09) 8455730
Westpac Branch: Manukau City Mall
Westfield Manukau City, Cnr Gt South and Wiri Station Rd, Auckland 1010, New Zealand
(09) 2628213
Westpac Branch: Pakuranga
1/135 Pakuranga Rd, Pakuranga, Auckland 2010, New Zealand
(09) 5720282
Westpac Branch: Britomart
Te Ara Tahuhu Walkway, Auckland Central, Auckland 1010, New Zealand
(09) 3489391
Westpac Branch: Devonport
45-47 Victoria Rd, Devonport, Auckland 0624, New Zealand
(09) 4450841
Westpac Branch: Viaduct Branch
22 Viaduct Harbour Ave, Auckland, 1010, New Zealand
(09) 3540440
Westpac Branch: Sylvia Park Branch
286 Mount Wellington Highway, Auckland, Auckland 1060, New Zealand
(09) 5741710
Westpac Branch: Botany Junction
277 Te Irirangi Dr, Flat Bush, Auckland 2016, New Zealand
(09) 2717430
Westpac Branch: Northwest
(09) 8333676
Westpac Branch: Migrant Brokers
Te Ara Tahuhu Walkway, Auckland Central, Auckland 1010, New Zealand
(09) 3489388
Westpac Branch: Migrant Nrth Harbour Hub
60 Constellation Dr, North Shore, 0632, New Zealand
Westpac Branch: Migrant Britomart West
Te Ara Tahuhu Walkway, Auckland Central, Auckland 1010, New Zealand
(0800) 888228
Westpac Branch: Migrant Britomart Cntrl
Te Ara Tahuhu Walkway, Auckland Central, Auckland 1010, New Zealand
(0800) 888228
Westpac HelpStation Branch: Mt Roskill
22 Stoddard Rd, Auckland, 1041, New Zealand
(09) 6203452
Westpac HelpStation Branch: Epsom
399 Manukau Rd, Epsom, Auckland 1023, New Zealand
(09) 6235550
Westpac HelpStation Branch: Silverdale
16 Wainui Rd, Silverdale, 0932, New Zealand
(09) 4261884