The full list of
Westpac ATMs in New Zealand.
Wow! Now this is a list. Our count puts it at a total of
458 Westpac owned ATMs
around the country. That equates to around one ATM every 25-30km across the WHOLE ISLAND.
We do expect this to decline over the coming years as more and more banks
move away form the traditional brick and mortar
stores to the online and cashless world.
In the list below you'll be able to
find ATMs across all the regions of New Zealand
including Auckland, Wellington, Canterbury, Southland, Hawkes Bay, and more.
As well, you can search for specific locations such as
Auckland Airport
, Dunedin Airport, Christchurch Airport. Or Suburbs like
Albany,
Springvale, Papamoa. You could even search for a specific
shopping centre or mall.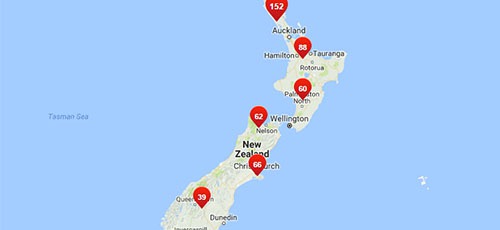 Find Westpac ATMs in New Zealand
Type first letters of branch name, location name or address: