The full list of SBS Bank branches in New Zealand with contact information, branch locations and addresses.
SBS has a number of branches around New Zealand. As it's head office was initially founded in
Invercarill
, Southland, most of it's branches are around the South Island area.
They have expanded a bit into the North Island to include some areas such as
Bay of Plenty
and
Waikato
. As seen in the image below.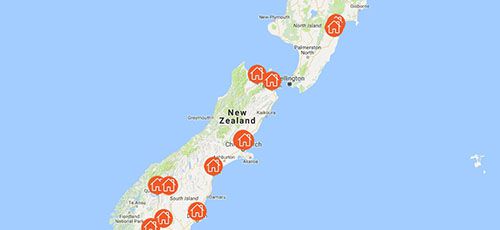 SBS Branches - New Zealand
Type first letters of branch name, location name or address:
SBS Head Office – Invercargill
51 Don Street, Southland
9810, New Zealand
Phone: 0800 727 2265
Opening hours:
Mon, Wed – Fri: 9:00 am – 4:30 pm
Tue: 9:30 am – 4:30 pm
SBS Branch Windsor – Invercargill
54 Windsor Street, Southland
9810, New Zealand
Phone: 0800 727 2265
Opening hours:
Mon, Wed – Fri: 9:00 am – 4:30 pm
Tue: 9:30 am – 4:30 pm
SBS Branch Tauranga
36 Spring Street, Bay of Plenty
3110, New Zealand
Phone: 0800 727 2265
Opening hours:
Mon, Wed – Fri: 9:00 am – 4:30 pm
Tue: 9:30 am – 4:30 pm
SBS Branch Hamilton
Corner Victoria & Bryce Streets, Waikato
3204, New Zealand
Phone: 0800 727 2265
Opening hours:
Mon, Wed – Fri: 9:00 am – 4:30 pm
Tue: 9:30 am – 4:30 pm
SBS Branch Napier
97 Dalton Street, Hawkes Bay
4110, New Zealand
Phone: 0800 727 2265
Opening hours:
Mon, Wed – Fri: 9:00 am – 4:30 pm
Tue: 9:30 am – 4:30 pm
SBS Branch Hastings
Cnr Queen & Market Streets, Hawkes Bay
4110, New Zealand
Phone: 0800 727 2265
Opening hours:
Mon, Wed – Fri: 9:00 am – 4:30 pm
Tue: 9:30 am – 4:30 pm
SBS Branch Nelson
126 Trafalgar Street, Nelson
7010, New Zealand
Phone: 0800 727 2265
Opening hours:
Mon, Wed – Fri: 9:00 am – 4:30 pm
Tue: 9:30 am – 4:30 pm
SBS Branch Blenheim
Corner Main and Market Street, Malborough
7201, New Zealand
Phone: 0800 727 2265
Opening hours:
Mon, Wed – Fri: 9:00 am – 4:30 pm
Tue: 9:30 am – 4:30 pm
SBS Branch Riccarton – Christchurch
109 Riccarton Road, Canterbury
8041, New Zealand
Phone: 0800 727 2265
Opening hours:
Mon, Wed – Fri: 9:00 am – 4:30 pm
Tue: 9:30 am – 4:30 pm
SBS Branch Papanui – Christchurch
2-6 Main North Road, Canterbury
8053, New Zealand
Phone: 0800 727 2265
Opening hours:
Mon, Wed – Fri: 9:00 am – 4:30 pm
Tue: 9:30 am – 4:30 pm
SBS Branch Ferrymead – Christchurch
23 Humphreys Drive, Canterbury
8023, New Zealand
Phone: 0800 727 2265
Opening hours:
Mon, Wed – Fri: 9:00 am – 4:30 pm
Tue: 9:30 am – 4:30 pm
SBS Branch Timaru
235 Stafford Street, Canterbury
7910, New Zealand
Phone: 0800 727 2265
Opening hours:
Mon, Wed – Fri: 9:00 am – 4:30 pm
Tue: 9:30 am – 4:30 pm
SBS Branch Cromwell
21 The Mall
Phone: 0800 727 2265
Opening hours:
Mon, Wed – Fri: 9:00 am – 4:30 pm
Tue: 9:30 am – 4:30 pm
SBS Branch Queenstown
7 Shotover Street, Otago
9300, New Zealand
Phone: 0800 727 2265
Opening hours:
Mon, Wed – Fri: 9:00 am – 4:30 pm
Tue: 9:30 am – 4:30 pm
SBS Branch Dunedin
Corner George & Hanover Streets, Otago
9016, New Zealand
Phone: 0800 727 2265
Opening hours:
Mon, Wed – Fri: 9:00 am – 4:30 pm
Tue: 9:30 am – 4:30 pm
SBS Branch Gore
80 Main Street, Southland
9710, New Zealand
Phone: 0800 727 2265
Opening hours:
Mon, Wed – Fri: 9:00 am – 4:30 pm
Tue: 9:30 am – 4:30 pm