The full list of Kiwibank branches and ATMs in Northland, New Zealand with contact information, branch locations and addresses.
The northenest, northernmost, north region of New Zealand. What's it called?
Northland
of course! For the size of the place, there are still plenty of Kiwibank locations here.
Head over to
Dargaville, Kaitaia, Kamo, Woodhill
or even,
Kerikeri
and you'll have no trouble at all using the banks services.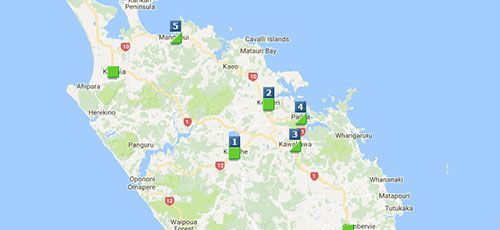 Northland Kiwibank Locations
Type first letters of branch name, location name or address:
Dargaville PostShop
80 Victoria Street, Dargaville 0310
Phone: 09 439 6051
Fax: 09 439 6050
Operating hours:
Mon-Fri: 8:30 am – 5:00 pm
Sat: 9:00 am – 12:00 pm
Sun: Closed
Kaikohe PostShop
144 Broadway, Kaikohe 0405
Phone: 0800 501 501
Fax: 09 405 3041
Operating hours:
Mon-Fri: 9:00 am – 5:00 pm
Sat: Closed
Sun: Closed
Kaitaia PostShop
104 Commerce Street, Kaitaia 0410
Phone: 0800 501 501
Fax: 09 408 3101
Operating hours:
Mon-Fri: 9:00 am – 5:00 pm
Sat: 9:00 am – 1:00 pm
Sun: Closed
Kamo PostShop
519 Kamo Road, Kamo 0112
Phone: 09 435 1111
Fax: 09 435 1125
Operating hours:
Mon-Fri: 8:30 am – 5:00 pm
Sat: 9:00 am – 12:00 pm
Sun: Closed
Kawakawa Central PostShop
54 Gillies Street, Kawakawa 0210
Phone: 0800 501 501
Fax: 09 404 3041
Operating hours:
Mon-Fri: 9:00 am – 5:00 pm
Sat: 8:30 am – 1:00 pm
Sun: Closed
Kensington PostShop
4 Kensington Avenue, Kensington, Whangarei 0112
Phone: 09 437 2372
Fax: 09 437 2372
Operating hours:
Mon-Fri: 8:30 am – 5:00 pm
Sat: 9:00 am – 12:00 pm
Sun: Closed
Kerikeri PostShop
6 Hobson Avenue, Kerikeri 0230
Phone: 09 407 9721
Fax: 09 407 9722
Operating hours:
Mon-Fri: 8:30 am – 5:00 pm
Sat: 8:30 am – 12:30 pm
Sun: Closed
Kiwibank ATM
110 Onerahi Road, Onerahi, Whangarei 0110
Phone: 0800 501 501
Available: 24 / 7
Kiwibank ATM
144 Broadway, Kaikohe 0405
Phone: 0800 501 501
Available: 24 / 7
Kiwibank ATM
2 Williams Road, Paihia 0200
Phone: 0800 501 501
Available: 24 / 7
Kiwibank ATM
25 Gillies Street, Kawakawa 0210
Phone: 0800 501 501
Available: 24 / 7
Kiwibank ATM
Kerikeri Road
Phone: 0800 501 501
Available: 24 / 7
Kiwibank ATM
80 Victoria Street, Dargaville 0310
Phone: 0800 501 501
Available: 24 / 7
Kiwibank ATM
104 Commerce Street, Kaitaia 0410
Phone: 0800 501 501
Available: 24 / 7
Kiwibank ATM
Otaika Shopping Centre Otaika Rd, Raumanga
Phone: 0800 501 501
Available: 24 / 7
Kiwibank ATM
1/117 Maunu Road, Woodhill, Whangarei 0110
Phone: 0800 501 501
Available: 24 / 7
Kiwibank ATM
199 Rodney Street, Wellsford 0900
Phone: 0800 501 501
Available: 24 / 7
Kiwibank ATM
519 Kamo Road, Kamo 0112
Phone: 0800 501 501
Available: 24 / 7
Kiwibank ATM
16 Rathbone Street, Whangarei 0110
Phone: 0800 501 501
Available: 24 / 7
Kiwibank ATM (within New World Kaikohe)
5 Marino Place
Phone: 0800 501 501
Available: 24 / 7
Mangonui PostShop
118 Waterfront Drive
Phone: 09 406 0007
Fax: 09 406 0920
Operating hours:
Mon-Fri: 8:30 am – 5:00 pm
Sat: 8:00 am – 12:00 pm
Sun: Closed
Otaika PostShop
136-168 State Highway 1
Phone: 09 438 6031
Fax: 09 438 6031
Operating hours:
Mon-Fri: 7:30 am – 5:00 pm
Sat: 7:30 am – 5:00 pm
Sun: Closed
Paihia Central PostShop
2 Williams Road, Paihia 0200
Phone: 0800 501 501
Fax: 09 402 8624
Operating hours:
Mon-Fri: 9:00 am – 5:00 pm
Sat: 9:00 am – 1:00 pm
Sun: Closed
Te Mai West PostShop
1/117 Maunu Road, Woodhill, Whangarei 0110
Phone: 0800 501 501
Fax: 09 438 7689
Operating hours:
Mon-Fri: 8:30 am – 5:30 pm
Sat: 8:30 am – 1:30 pm
Sun: Closed
Wellsford PostShop
199 Rodney Street, Wellsford 0900
Phone: 09 423 8227
Fax: 09 423 8261
Operating hours:
Mon-Fri: 8:30 am – 5:00 pm
Sat: 9:00 am – 12:00 pm
Sun: Closed
Whangarei Business Banking Centre
120 Bank Street, Whangarei 0110
Phone: 09 438 2470
Fax: 09 459 7630
Operating hours:
Mon-Fri: 8:30 am – 5:00 pm
Sat: Closed
Sun: Closed
Whangarei Central PostShop
16 Rathbone Street, Whangarei 0110
Phone: 09 430 2762
Fax: 09 438 0037
Operating hours:
Mon: 9:00 am – 5:00 pm
Tue: 9:00 am – 5:30 pm
Wed: 9:00 am – 5:30 pm
Thu: 9:00 am – 5:30 pm
Fri: 9:00 am – 5:30 pm
Sat: 9:00 am – 1:00 pm
Sun: Closed