The full list of HSBC branches in New Zealand with contact information, branch locations and addresses.
HSBC New Zealand
was the first foreign bank in the country according to their
website.
They are initially granted the banking license in 1987, following a planned deregulation of New Zealand's financial markets in the same year.
Their first office was originally in Wellington, but they moved to Auckland just two years later in 1989. Currently, HSBC New Zealand have branches in
Christchurch, Wellington,
and
Auckland
To search for a specific HSBC branch in New Zealand, simply head to the text box below and start typing. Branch locations will automatically start searching.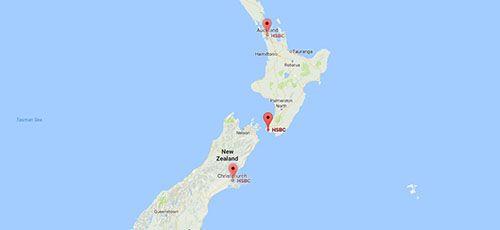 HSBC Locations New Zealand
Type first letters of branch name, location name or address: