The full list of the Co-operative bank branches in New Zealand with contact information, branch locations and addresses.
The Cooperative bank
has quite a few branches in both the
North Island and South Island.
A total of 34 branches are spread out between the two.
However, you wil find that most of them are situated on the North Island in places such as
Auckland and Wellington.
Below you will find their address, postal information, contact details and opening hours.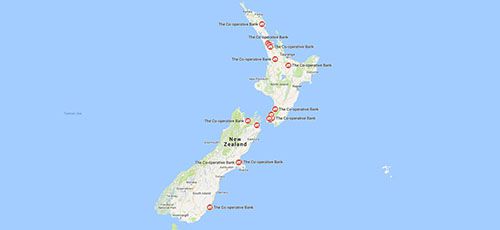 Cooperative Bank Locations in New Zealand
Type first letters of branch name, location name or address:
Blenheim Branch
10 Queen Street
Postal address: PO Box 480
Email: blenheim@co-operativebank.co.nz
Phone: (03) 520 6780
Fax: (03) 520 6789
Opening hours:
Mon, Wed, Thu, Fri: 9:00 am – 5:00 pm
Tue: 9:30 am – 5:00 pm
Botany Branch
Botany Town Centre, 588 Chapel Road, East Tamaki
Postal address: PO Box 58079
Email: botany@co-operativebank.co.nz
Phone: (09) 265 3300
Fax: (09) 265 3309
Opening hours:
Mon, Wed, Fri: 9:00 am – 5:00 pm
Tue: 9:30 am – 5:00 pm
Thu: 9:00 am – 7:00 pm
Sat: 9:00 am – 4:00 pm
Sun: 10:00 am – 4:00 pm
Dunedin Branch
305 George Street
Postal address: PO Box 5746
Email: dunedin@co-operativebank.co.nz
Phone: (03) 470 3100
Fax: (03) 470 3109
Opening hours:
Mon, Wed, Thu, Fri: 9:00 am – 5:00 pm
Tue: 9:30 am – 5:00 pm
Gisborne Branch
27 Gladstone Road
Postal address: PO Box 840
Email: gisborne@co-operativebank.co.nz
Phone: (06) 869 2200
Fax: (06) 869 2219
Opening hours:
Mon, Wed, Thu, Fri: 9:00 am – 5:00 pm
Tue: 9:30 am – 5:00 pm
Hamilton Branch
Shop 2, 36 Bryce Street
Postal address: PO Box 220
Email: hamilton@co-operativebank.co.nz
Phone: (07) 858 7400
Fax: (07) 858 7419
Opening hours:
Mon, Wed, Thu, Fri: 9:00 am – 5:00 pm
Tue: 9:30 am – 5:00 pm
Hastings Branch
124 Market Street North
Postal address: PO Box 906
Email: hastings@co-operativebank.co.nz
Phone: (06) 834 3200
Fax: (06) 834 3209
Opening hours:
Mon, Wed, Thu, Fri: 9:00 am – 5:00 pm
Tue: 9:30 am – 5:00 pm
Henderson Branch
360 Great North Road
Postal address: PO Box 21414
Email: henderson@co-operativebank.co.nz
Phone: (09) 836 9210
Fax: (09) 836 9219
Opening hours:
Mon, Wed, Thu, Fri: 9:00 am – 5:00 pm
Tue: 9:30 am – 5:00 pm
Invercargill Branch
Cnr Kelvin and Spey Streets
Postal address: PO Box 1231
Email: invercargill@co-operativebank.co.nz
Phone: (03) 211 3390
Fax: (03) 211 3399
Opening hours:
Mon, Wed, Thu, Fri: 9:00 am – 5:00 pm
Tue: 9:30 am – 5:00 pm
Levin Branch
171 Oxford Street
Postal address: PO Box 349
Email: levin@co-operativebank.co.nz
Phone: (06) 366 0670
Fax: (06) 366 0658
Opening hours:
Mon, Wed, Thu, Fri: 9:00 am – 5:00 pm
Tue: 9:30 am – 5:00 pm
Lower Branch
Hutt Shop 167, Ground Floor, Westfield Queensgate, Cnr Queens Drive and Bunny Street
Postal address: PO Box 30700
Email: lowerhutt@co-operativebank.co.nz
Phone: (04) 570 4340
Fax: (04) 570 4359
Opening hours:
Mon, Wed, Fri, Sat: 9:00 am – 5:00 pm
Tue: 9:30 am – 5:00 pm
Thu: 9:00 am – 7:00 pm
Sun: 10:00 am – 4:00 pm
Manukau Branch
Unit 1/11, Ronwood Avenue
Postal address: PO Box 76059
Email: manukau@co-operativebank.co.nz
Phone: (09) 261 1150
Fax: (09) 261 1159
Opening hours:
Mon, Wed, Thu, Fri: 9:00 am – 5:00 pm
Tue: 9:30 am – 5:00 pm
Napier Branch
114 Hastings Street
Postal address: PO Box 403
Email: napier@co-operativebank.co.nz
Phone: (06) 835 2500
Fax: (06) 835 2509
Opening hours:
Mon, Wed, Thu, Fri: 9:00 am – 5:00 pm
Tue: 9:30 am – 5:00 pm
Nelson Branch
28 Bridge Street
Postal address: PO Box 15
Email: nelson@co-operativebank.co.nz
Phone: (03) 539 9000
Fax: (03) 539 9009
Opening hours:
Mon, Wed, Thu, Fri: 9:00 am – 5:00 pm
Tue: 9:30 am – 5:00 pm
New Plymouth Branch
107 Devon Street East
Postal address: PO Box 651
Email: newplymouth@co-operativebank.co.nz
Phone: (06) 759 6540
Fax: (06) 759 6549
Opening hours:
Mon, Wed, Thu, Fri: 9:00 am – 5:00 pm
Tue: 9:30 am – 5:00 pm
Newmarket Branch
312-330 Broadway, Newmarket
Postal address: PO Box 9926
Email: newmarket@co-operativebank.co.nz
Phone: (09) 522 5500
Fax: (09) 522 5509
Opening hours:
Mon, Wed, Thu, Fri: 9:00 am – 5:00 pm
Tue: – 9:30 am – 5:00 pm
Sat: 9:00 am -4:00 pm
Onehunga Branch
155 Onehunga Mall
Postal address: PO Box 13948
Email: onehunga@co-operativebank.co.nz
Phone: (09) 622 9060
Fax: (09) 622 9069
Opening hours:
Mon, Wed, Thu, Fri: 9:00 am – 5:00 pm
Tue: 9:30 am – 5:00 pm
Otahuhu Branch
21 Hall Avenue
Postal address: PO Box 22124
Email: otahuhu@co-operativebank.co.nz
Phone: (09) 259 7050
Fax: (09) 259 7059
Opening hours:
Mon, Wed, Thu, Fri: 9:00 am – 5:00 pm
Tue: 9:30 am – 5:00 pm
Palmerston Branch
North 100 Broadway Avenue
Postal address: PO Box 1149
Email: palmerstonnorth@co-operativebank.co.nz
Phone: (06) 350 2640
Fax: (06) 350 2669
Opening hours:
Mon, Wed, Thu, Fri: 9:00 am – 5:00 pm
Tue: 9:30 am – 5:00 pm
Papakura Branch
Shop 1, 138 Great South Road
Postal address: PO Box 72441
Email: papakura@co-operativebank.co.nz
Phone: (09) 295 3100
Fax: (09) 295 3109
Opening hours:
Mon, Wed, Thu, Fri: 9:00 am – 5:00 pm
Tue: 9:30 am – 5:00 pm
Papanui Branch
19 Main North road
Postal address: PO Box 5513
Email: papanui@co-operativebank.co.nz
Phone: (03) 375 1420
Fax: (03) 375 1439
Opening hours:
Mon, Wed, Thu, Fri: 9:00 am – 5:00 pm
Tue: 9:30 am – 5:00 pm
Paraparaumu Branch
Coastlands Shopping Centre, Rimu Road, Paraparaumu
Postal address: PO Box 655
Email: paraparaumu@co-operativebank.co.nz
Phone: (04) 296 1760
Fax: (04) 296 1769
Opening hours:
Mon, Wed, Thu, Fri: 9:00 am – 5:00 pm
Tue: 9:30 am – 5:00 pm
Porirua Branch
Jellicoe Street, Porirua
Postal address: PO Box 50250
Email: porirua@co-operativebank.co.nz
Phone: (04) 238 4800
Fax: (04) 238 4819
Opening hours:
Mon, Wed, Thu, Fri: 9:00 am – 5:00 pm
Tue: 9:30 am – 5:00 pm
Queen Street Branch
109 Queen Street
Postal address: PO Box 105059
Email: queenstreet@co-operativebank.co.nz
Phone: (09) 366 9010
Fax: (09) 366 9019
Opening hours:
Mon, Wed, Thu, Fri: 9:00 am – 5:00 pm
Tue: 9:30 am – 5:00 pm
Riccarton Branch
107 Riccarton Road
Postal address: PO Box 8812
Email: riccarton@co-operativebank.co.nz
Phone: (03) 341 4430
Fax: (03) 341 4439
Opening hours:
Mon, Wed, Thu, Fri: 9:00 am – 5:00 pm
Tue: – 9:30 am – 5:00 pm
Sat: 9:00 am – 1:00 pm
Rotorua Branch
Cnr Eruera and Amohia Streets
Postal address: PO Box 909
Email: rotorua@co-operativebank.co.nz
Phone: (07) 349 7230
Fax: (07) 349 7249
Opening hours:
Mon, Wed, Thu, Fri: 9:00 am – 5:00 pm
Tue: 9:30 am – 5:00 pm
Takapuna Branch
15-17 Hurstmere Road
Postal address: PO Box 33310
Email: takapuna@co-operativebank.co.nz
Phone: (09) 488 1270
Fax: (09) 488 1289
Opening hours:
Mon, Wed, Thu, Fri: 9:00 am – 5:00 pm
Tue: 9:30 am – 5:00 pm
Taupo Branch
21 Horomatangi Street
Postal address: PO Box 260
Email: taupo@co-operativebank.co.nz
Phone: (07) 376 2400
Fax: (07) 376 2409
Opening hours:
Mon, Wed, Thu, Fri: 9:00 am – 5:00 pm
Tue: 9:30 am – 5:00 pm
Tauranga Branch
62 Grey Street, Tauranga
Postal address: PO Box 13001
Email: tauranga@co-operativebank.co.nz
Phone: (07) 577 3700
Fax: (07) 577 3709
Opening hours:
Mon, Wed, Thu, Fri: 9:00 am – 5:00 pm
Tue: 9:30 am – 5:00 pm
The Palms Branch
The Palms Shopping Centre, 11 New Brighton Road
Postal address: PO Box 27079, Shirley
Email: thepalms@co-operativebank.co.nz
Phone: (03) 375 7770
Fax: (03) 375 7779
Opening hours:
Mon, Wed, Thu, Fri: 9:00 am – 5:00 pm
Tue: 9:30 am – 5:00 pm
Sat: 9:00 am – 4:00 pm
Sun: 10:00 am – 4:00 pm
Timaru Branch
295 Stafford Street
Postal address: PO Box 18
Email: timaru@co-operativebank.co.nz
Phone: (03) 687 7970
Fax: (03) 687 7979
Opening hours:
Mon, Wed, Thu, Fri: 9:00 am – 5:00 pm
Tue: 9:30 am – 5:00 pm
Upper Branch
Hutt 151 Main Street
Postal address: PO Box 40618
Email: upperhutt@co-operativebank.co.nz
Phone: (04) 529 1500
Fax: (04) 529 1519
Opening hours:
Mon, Wed, Thu, Fri: 9:00 am – 5:00 pm
Tue: 9:30 am – 5:00 pm
Wanganui Branch
127 Victoria Avenue
Postal address: PO Box 4060
Email: wanganui@co-operativebank.co.nz
Phone: (06) 349 2950
Fax: (06) 349 2959
Opening hours:
Mon, Wed, Thu, Fri: 9:00 am – 5:00 pm
Tue: 9:30 am – 5:00 pm
Wellington Branch
Cnr Ballance and Featherston Streets
Postal address: PO Box 54
Email: wellington@co-operativebank.co.nz
Phone: (04) 495 4080
Fax: (04) 495 4099
Opening hours:
Mon, Wed, Thu, Fri, Sat, Sun: 9:00 am – 5:00 pm
Tue: 9:30 am – 5:00 pm
Whangarei Branch
Corner of Vine and Bank Streets
Postal address: PO Box 180
Email: whangarei@co-operativebank.co.nz
Phone: (09) 470 2640
Fax: (09) 470 2649
Opening hours:
Mon, Wed, Thu, Fri: 9:00 am – 5:00 pm
Tue: 9:30 am – 5:00 pm