Full list of BNZ Branches in West Coast, New Zealand with contact information, branch locations and addresses.
BNZ have thankfully not left out the
West Coast of New Zealand for their branches
. Although not as many as some other regions, here, you'll be able to find exactly three.
Search through the list below to find the closest one to your area. You'll also find their
opening hours
, and if they have any
other facilities at the branch itself
.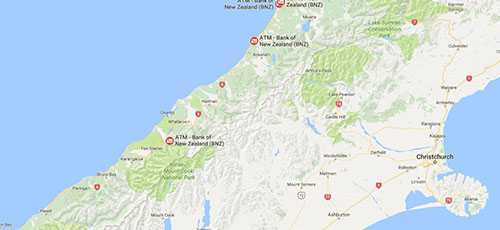 West Coast BNZ Branch Locations
Type first letters of branch name, location name or address:
Reefton Branch
Reefton i-Site Visitor Centre, 67 -69 Broadway, Reefton 7830, New Zealand
Opening hours:
Monday-Friday, 9:00AM – 12:30PM
Monday-Friday, 1:30PM – 4:30PM
Saturday-Sunday, Closed
Westport Branch
147 Palmerston Street, Westport, Buller, 7825
Opening hours:
Monday-Friday, 9:00AM – 4:30PM
Saturday-Sunday, Closed
Facilities: ATM attached, Wheelchair access, Kids' Zone
Greymouth Branch
91 Mackay Street, Greymouth, 7805
Opening hours:
Monday-Friday, 9:00AM – 4:30PM
Saturday-Sunday, Closed
Facilities: ATM attached, Wheelchair access, Kids' Zone