Full list of BNZ Branches in Waikato, New Zealand with contact information, branch locations and addresses.
Just to south of Auckland, you may find yourself
visiting the lovely Waikato region
some time in the near future.
And what better way to be prepared, than to know the exact locations, opening hours, and facilities of
all the BNZ branches
in the area.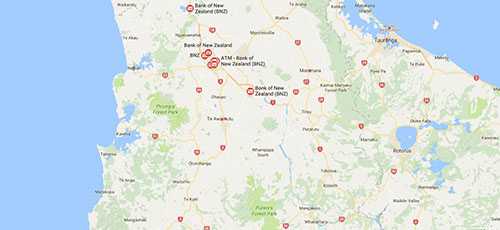 Locate BNZ Branches in Waikato
Type first letters of branch name, location name or address:
Morrinsville Branch
268 Thames St, Morrinsville 3300, New Zealand
Opening hours:
Monday-Friday, 9:00AM – 4:30PM
Saturday-Sunday, Closed
Facilities: ATM attached, Wheelchair access, Kids' Zone
Matamata Branch
56 Arawa Street, Matamata
Opening hours:
Monday-Friday, 9:00AM – 4:30PM
Saturday-Sunday, Closed
Facilities: ATM attached, Wheelchair access, Free WiFi, Kids' Zone
Te Aroha Branch
151 Whitaker Street, Te Aroha, Matamata-Piako, 3320
Opening hours:
Monday-Friday, 9:00AM – 4:30PM
Saturday-Sunday, Closed
Facilities: ATM attached, Wheelchair access, Kids' Zone
Cambridge Branch
51 Victoria Street, Cambridge, Waipa, 3434
Opening hours:
Monday-Friday, 9:00AM – 4:30PM
Saturday-Sunday, Closed
Facilities: ATM attached, Wheelchair access, Kids' Zone
Chartwell Branch
S155 Westfield Chartwell Shopping Centre, Cnr Comries and Hukanui Roads, Chartwell, Hamilton 3210
Opening hours:
Monday-Friday, 9:00AM – 5:30PM
Saturday, 9:00AM – 3:00PM
Sunday, 10:00AM – 2:00PM
Facilities: ATM attached, Wheelchair access, Extended hours, Kids' Zone
Hamilton Banking Centre Branch
354 Victoria Street, Hamilton
Opening hours:
Monday-Friday, 9:00AM – 4:30PM
Saturday-Sunday, Closed
Facilities: ATM attached, Wheelchair access, Kids' Zone
Katikati Branch
25 Main Road, Katikati
Opening hours:
Monday-Friday, 9:00AM – 4:30PM
Saturday-Sunday, Closed
Facilities: ATM attached, Wheelchair access, Kids' Zone
Frankton Branch
113 Commerce St, Frankton, Hamilton 3204, New Zealand
Opening hours:
Monday-Friday, 9:00AM – 4:30PM
Saturday-Sunday, Closed
Facilities: ATM attached, Kids' Zone
Te Rapa Branch
524 Te Rapa Road, Te Rapa, Hamilton
Opening hours:
Monday-Friday, 9:00AM – 4:30PM
Saturday-Sunday, Closed
Facilities: ATM attached, Wheelchair access, Kids' Zone
The Base Branch
Shop R44, The Base, Maahanga Dr, Te Rapa, Hamilton, 3200, New Zealand
Opening hours:
Monday-Friday, 9:00AM – 5:00PM
Saturday, 9:00AM – 3:00PM
Sunday, 10:00AM – 2:00PM
Facilities: ATM attached, Wheelchair access, Extended hours, Kids' Zone
Paeroa Branch
42 Belmont Road, Paeroa
Opening hours:
Monday-Friday, 9:30AM – 3:00PM
Saturday-Sunday, Closed
Facilities: ATM attached, Wheelchair access, Kids' Zone
Waihi Branch
68 Seddon Street, Waihi, Hauraki, 3610
Opening hours:
Monday-Friday, 9:00AM – 4:30PM
Saturday-Sunday, Closed
Facilities: ATM attached, Wheelchair access, Kids' Zone
Putaruru Branch
52 Tirau Street, Putaruru, 3411
Opening hours:
Monday-Friday, 9:00AM – 4:30PM
Saturday-Sunday, Closed
Facilities: Wheelchair access
Te Awamutu Branch
Shop 5, 670 Cambridge Rd, Te Awamutu 3800, New Zealand
Opening hours:
Monday-Friday, 9:00AM – 4:30PM
Saturday-Sunday, Closed
Facilities: ATM attached, Wheelchair access, Kids' Zone
Huntly Branch
107 Main St, Huntly 3700, New Zealand
Opening hours:
Monday-Friday, 9:00AM – 4:30PM
Saturday-Sunday, Closed
Facilities: ATM attached, Wheelchair access, Kids' Zone
Greerton Branch
Shop 4, Crockford House, 212 Chadwick Rd, Greerton, Tauranga 3112, New Zealand
Opening hours:
Monday-Friday, 9:00AM – 4:30PM
Saturday-Sunday, Closed
Facilities: ATM attached, Wheelchair access, Kids' Zone
Cameron Road Banking Centre Branch
639 Cameron Rd, Tauranga South, Tauranga 3112, New Zealand
Opening hours:
Monday-Friday, 9:00AM – 4:30PM
Saturday-Sunday, Closed
Facilities: ATM attached, Wheelchair access, Kids' Zone
Tauranga Branch
124 Willow Street, Tauranga
Opening hours:
Monday-Friday, 9:00AM – 4:30PM
Saturday-Sunday, Closed
Facilities: ATM attached, Wheelchair access, Kids' Zone
Mount Maunganui Branch
165 Maunganui Road, Mount Maunganui
Opening hours:
Monday-Friday, 9:00AM – 4:30PM
Saturday, 9:30AM – 1:00PM
Sunday, Closed
Facilities: ATM attached, Wheelchair access, Extended hours
Papamoa Branch
26 Gravatt Road, Papamoa Beach, Tauranga, 3118
Opening hours:
Monday-Friday, 9:00AM – 4:30PM
Saturday-Sunday, Closed
Facilities: ATM attached, Wheelchair access, Kids' Zone
Whangamata Branch
614 Port Road, Whangamata, Thames Coromandel District
Opening hours:
Monday-Friday, 9:00AM – 4:30PM
Saturday-Sunday, Closed
Facilities: ATM attached, Wheelchair access
Tokoroa Branch
33 Bridge Street, Tokoroa 3420, New Zealand
Opening hours:
Monday-Friday, 9:00AM – 4:30PM
Saturday-Sunday, Closed
Facilities: ATM attached, Wheelchair access, Kids' Zone
Thames Branch
501 Pollen Street, Thames
Opening hours:
Monday-Friday, 9:00AM – 4:30PM
Saturday-Sunday, Closed
Facilities: ATM attached, Wheelchair access, Kids' Zone
Te Puke Branch
83 Jellicoe Street, Te Puke
Opening hours:
Monday-Friday, 9:00AM – 4:30PM
Saturday-Sunday, Closed
Facilities: ATM attached, Wheelchair access, Kids' Zone
Otorohanga Branch
21 Maniapoto Street, Otorohanga, 3900
Opening hours:
Monday-Friday, 9:00AM – 4:30PM
Saturday-Sunday, Closed
Facilities: ATM attached, Wheelchair access
Rotorua Branch
Pukeroa Oruawhata House, 1176 Amohau Street, Rotorua 3045, New Zealand
Opening hours:
Monday-Friday, 9:00AM – 4:30PM
Saturday, 9:00AM – 3:00PM
Sunday, Closed
Facilities: ATM attached, Wheelchair access, Extended hours, Free WiFi
Te Kuiti Branch
149 Rora Street, Te Kuiti
Opening hours:
Monday-Friday, 9:00AM – 4:30PM
Saturday-Sunday, Closed
Facilities: ATM attached, Wheelchair access
Pukekohe Branch
177 King Street, Pukekohe
Opening hours:
Monday-Friday, 9:00AM – 4:30PM
Saturday-Sunday, Closed
Facilities: ATM attached, Co-located with Air New Zealand Holidays, Wheelchair access, Kids' Zone
Waiuku Branch
52 Queen Street, Waiuku
Opening hours:
Monday-Friday, 9:00AM – 4:30PM
Saturday-Sunday, Closed
Facilities: ATM attached, Wheelchair access, Kids' Zone
Papakura Branch
134 Great South Road, Papakura, South Auckland
Opening hours:
Monday-Friday, 9:00AM – 4:30PM
Saturday-Sunday, Closed
Facilities: ATM attached, Wheelchair access, Kids' Zone
Whitianga Branch
70 Albert Street, Whitianga
Opening hours:
Monday-Friday, 9:00AM – 4:30PM
Saturday-Sunday, Closed
Facilities: ATM attached, Wheelchair access, Kids' Zone
Manurewa Branch
182 Great South Road, Manurewa, South Auckland
Opening hours:
Monday-Friday, 9:00AM – 4:30PM
Saturday-Sunday, Closed
Facilities: ATM attached, Wheelchair access, Kids' Zone
Manukau Banking Centre Branch
639 Great South Road, Manukau, Auckland 2104
Opening hours:
Monday-Friday, 9:00AM – 4:30PM
Saturday-Sunday, Closed
Facilities: ATM attached, Wheelchair access, Kids' Zone
Kawerau Branch
33 Islington Street, Kawerau, 3127
Opening hours:
Monday-Friday, 9:00AM – 4:30PM
Saturday-Sunday, Closed
Facilities: ATM attached, Wheelchair access, Kids' Zone
Papatoetoe Branch
34 St George Street, Papatoetoe, South Auckland
Opening hours:
Monday-Friday, 9:00AM – 4:30PM
Saturday-Sunday, Closed
Facilities: ATM attached, Wheelchair access, Kids' Zone
Coromandel Branch
5 Wharf Road, Coromandel, Thames-Coromandel, 3506
Opening hours:
Monday-Friday, 9:00AM – 4:30PM
Saturday-Sunday, Closed
Facilities: ATM attached, Wheelchair access
Botany Branch
500 Ti Rakau Drive, Northpark, Auckland 2013
Opening hours:
Monday-Saturday, 9:00AM – 4:30PM
Sunday, Closed
Facilities: ATM attached, Wheelchair access, Extended hours, Kids' Zone, Self serve – Change machine & ATM
Meadowlands Branch
127 Meadowland Drive, Somerville, Auckland 2014
Opening hours:
Monday-Friday, 9:00AM – 4:30PM
Saturday-Sunday, Closed
Facilities: ATM attached, Wheelchair access, Kids' Zone
Auckland Airport Banking Centre Branch
Tom Pearce Drive, Mangere, Auckland
Opening hours:
Monday-Friday, 9:00AM – 4:30PM
Saturday-Sunday, Closed
Facilities: Wheelchair access
Highbrook Branch
86 Highbrook Dr, East Tamaki 2013, New Zealand
Opening hours:
Monday-Friday, 9:00AM – 4:30PM
Saturday-Sunday, Closed
Facilities: ATM attached, Wheelchair access, Kids' Zone
Howick Branch
41 Picton St, Howick, Manukau 2014, New Zealand
Opening hours:
Monday-Friday, 9:00AM – 4:30PM
Saturday-Sunday, Closed
Facilities: ATM attached, Wheelchair access, Free WiFi, Kids' Zone
Otahuhu Branch
336 Great South Road, Otahuhu
Opening hours:
Monday-Friday, 9:00AM – 4:30PM
Saturday-Sunday, Closed
Facilities: ATM attached, Wheelchair access, Kids' Zone
Pakuranga Branch
1 Aylesbury Street, Pakuranga, Auckland, 2010
Opening hours:
Monday-Friday, 9:00AM – 4:30PM
Saturday-Sunday, Closed
Facilities: ATM attached, Wheelchair access, Kids' Zone
Sylvia Park Branch
286 Mount Wellington Highway, Mount Wellington, Auckland 1060
Opening hours:
Monday-Wednesday, Friday, 9:00AM – 4:30PM
Thursday, 9:00AM – 6:00PM
Saturday-Sunday, 9:30AM – 4:30PM
Facilities: ATM attached, Wheelchair access, Extended hours
Penrose Banking Centre Branch
710 Great South Road, Penrose, Auckland, 1061
Opening hours:
Monday-Friday, 9:00AM – 4:30PM
Saturday-Sunday, Closed
Facilities: Wheelchair access, Extended hours
Onehunga Branch
247 Onehunga Mall, Onehunga, Auckland 1061, New Zealand
Opening hours:
Monday-Friday, 9:00AM – 4:30PM
Saturday, 9:30AM – 1:30PM
Sunday, Closed
Facilities: ATM attached, Wheelchair access, Extended hours, Kids' Zone
Lunn Ave (self serve store), New World, Stonefields Branch
New World, 100 Lunn Avenue, Mount Wellington, Auckland, 1072
Opening hours:
Monday-Friday, 9:00AM – 5:00PM
Saturday-Sunday, 9:00AM – 5:00PM
– Foreign cash and cashing cheques NOT available.
– ATM & Cash Exchange available 7am – 10pm 7 days a week
Facilities: ATM attached, Wheelchair access, Extended hours, Self serve – Change machine & ATM
Waiheke Branch
110 Ocean View Road, Oneroa, Waiheke Island 1081
Opening hours:
Monday-Friday, 9:00AM – 4:30PM
Saturday-Sunday, Closed
Facilities: ATM attached, Wheelchair access
St Heliers Branch
15 Polygon Road, St Heliers, Auckland
Opening hours:
Monday-Friday, 9:00AM – 4:30PM
Saturday-Sunday, Closed
Facilities: ATM attached, Wheelchair access, Kids' Zone
Taupo Branch
61 Tongariro Street, Taupo
Opening hours:
Monday-Friday, 9:00AM – 4:30PM
Saturday-Sunday, Closed
Facilities: ATM attached, Wheelchair access, Kids' Zone
Remuera Branch
338 Remuera Road, Remuera, Auckland
Opening hours:
Monday-Friday, 9:00AM – 5:00PM
Saturday-Sunday, Closed
Facilities: ATM attached, Wheelchair access, Extended hours, Kids' Zone
Mount Roskill Branch
1234 Dominion Road, Mount Roskill, Auckland
Opening hours:
Monday-Friday, 9:00AM – 4:30PM
Saturday-Sunday, Closed
Facilities: ATM attached, Wheelchair access
Newmarket Branch
330 Broadway, Newmarket, Auckland 1023
Opening hours:
Monday-Friday, 9:00AM – 4:30PM
Saturday, 9:00AM – 3:00PM
Sunday, Closed
Facilities: ATM attached, Co-located with Air New Zealand Holidays, Wheelchair access, Extended hours
Dominion Road Branch
281 Dominion Road, Mount Eden, Auckland
Opening hours:
Monday-Friday, 9:00AM – 4:30PM
Saturday-Sunday, Closed
Facilities: ATM attached, Wheelchair access, Kids' Zone
St Lukes Branch
Shop S528, Westfield St Lukes Mall, 80 St Lukes Road, Mount Albert, Auckland, 1025
Opening hours:
Monday-Wednesday, Friday-Saturday, 9:00AM – 4:30PM
Thursday, 9:00AM – 7:00PM
Sunday, 10:00AM – 4:00PM
Facilities: ATM attached, Wheelchair access, Extended hours, Free WiFi
Parnell Branch
128 Parnell Road, Parnell, Auckland 1052
Opening hours:
Monday-Friday, 9:00AM – 4:30PM
Saturday-Sunday, Closed
Facilities: ATM attached, Wheelchair access
Karangahape Road Branch
129 Karangahape Road, Auckland Central, Auckland, 1010
Opening hours:
Monday-Friday, 9:00AM – 4:30PM
Saturday-Sunday, Closed
Facilities: ATM attached, Wheelchair access
Quay Park Branch
30 Mahuhu Crescent, Auckland Central, Auckland 1010
Opening hours:
Monday-Friday, 8:00AM – 4:30PM
Saturday-Sunday, Closed
Facilities: ATM attached, Wheelchair access, Free WiFi
New Lynn Branch
3029 Great North Rd, New Lynn, Waitakere 0600, New Zealand
Opening hours:
Monday-Friday, 9:00AM – 4:30PM
Saturday, 9:00AM – 3:00PM
Sunday, Closed
Facilities: ATM attached, Extended hours, Kids' Zone
262 Queen Street Branch
262 Queen Street, Auckland Central, Auckland 1010
Opening hours:
Monday-Friday, 9:00AM – 4:30PM
Saturday-Sunday, Closed
Facilities: ATM attached, Wheelchair access
Devonport Branch
20 Victoria Road, Devonport, North Shore, 0624
Opening hours:
Monday-Friday, 9:00AM – 4:30PM
Saturday-Sunday, Closed
Facilities: ATM attached, Wheelchair access, Kids' Zone
Auckland Branch
80 Queen Street, Auckland Central, Auckland 1010
Opening hours:
Monday-Friday, 9:00AM – 4:30PM
Saturday-Sunday, Closed
Facilities: ATM attached, Wheelchair access, Free WiFi
Ponsonby Branch
328 Ponsonby Road, Ponsonby, Auckland 1011
Opening hours:
Monday-Friday, 9:00AM – 4:30PM
Saturday-Sunday, Closed
Facilities: ATM attached, Wheelchair access, Free WiFi, Kids' Zone
Glen Eden Branch
3 Glendale Road, Glen Eden, Waitakere City, Auckland
Opening hours:
Monday-Friday, 9:00AM – 4:30PM
Saturday-Sunday, Closed
Facilities: ATM attached, Wheelchair access, Kids' Zone
Whakatane Branch
181 The Strand, Whakatane
Opening hours:
Monday-Friday, 9:00AM – 4:30PM
Saturday-Sunday, Closed
Facilities: ATM attached, Wheelchair access, Kids' Zone
Takapuna Branch
491 Lake Road, Takapuna, North Shore
Opening hours:
Monday-Friday, 9:00AM – 4:30PM
Saturday-Sunday, Closed
Facilities: ATM attached, Kids' Zone
Henderson Branch
373 Great North Road, Henderson, Auckland
Opening hours:
Monday-Friday, 9:00AM – 4:30PM
Saturday-Sunday, Closed
Facilities: ATM attached, Wheelchair access, Free WiFi
Birkenhead Branch
8 Birkenhead Avenue, Birkenhead, North Shore, 0626
Opening hours:
Monday-Friday, 9:00AM – 4:30PM
Saturday-Sunday, Closed
Facilities: ATM attached, Wheelchair access, Kids' Zone
Milford Branch
Shop 127, Milford Shopping Centre, 24 Milford Rd, Milford, North Shore City 0620, New Zealand
Opening hours:
Monday-Friday, 9:00AM – 5:00PM
Saturday, 10:00AM – 4:00PM
Sunday, 10:00AM – 2:30PM
Facilities: ATM attached, Wheelchair access
Lincoln North Branch
Unit B8, 192 Universal Drive, Henderson, Waitakere 0610
Opening hours:
Monday-Friday, 9:00AM – 4:30PM
Saturday-Sunday, Closed
Facilities: ATM attached, Co-located with Air New Zealand Holidays, Wheelchair access
Glenfield Branch
Shop 3, 409 Glenfield Road, Glenfield, North Shore City
Opening hours:
Monday-Friday, 9:00AM – 4:30PM
Saturday-Sunday, Closed
Facilities: ATM attached, Wheelchair access
Link Drive Branch
4 Link Drive, Wairau Park, Auckland, 0627
Opening hours:
Monday-Friday, 9:00AM – 4:30PM
Saturday-Sunday, Closed
Facilities: ATM attached, Wheelchair access, Kids' Zone
Browns Bay Branch
41 Clyde Rd, Browns Bay, North Shore City 0630, New Zealand
Opening hours:
Monday-Friday, 9:00AM – 4:30PM
Saturday-Sunday, Closed
Facilities: ATM attached, Wheelchair access, Free WiFi, Kids' Zone
Albany Branch
1b Northridge Plaza, 136 Don Mckinnon Drive, Albany, Auckland, 0632
Opening hours:
Monday-Friday, 9:00AM – 4:30PM
Saturday-Sunday, Closed
Facilities: ATM attached, Wheelchair access, Kids' Zone
Taumarunui Branch
101 Hakiaha Street, Taumarunui, 3920
Opening hours:
Monday-Friday, 9:00AM – 4:30PM
Saturday-Sunday, Closed
Facilities: ATM attached, Wheelchair access, Kids' Zone
Kumeu Branch
82 Main Rd, Kumeu 0810, New Zealand
Opening hours:
Monday, Wednesday-Friday, 9:00AM – 4:30PM
Tuesday, 9:30AM – 4:30PM
Saturday-Sunday, Closed
Facilities: ATM attached, Kids' Zone
Silverdale Branch
Shop 10, 61 Silverdale St, Silverdale 0932, New Zealand
Opening hours:
Monday-Friday, 9:00AM – 4:30PM
Saturday, 9:00AM – 4:00PM
Sunday, 9:00AM – 3:00PM
Facilities: ATM attached, Wheelchair access, Extended hours, Kids' Zone
Orewa Branch
Moana Court, 3 Moana Ave, Orewa
Opening hours:
Monday-Friday, 9:00AM – 4:30PM
Saturday-Sunday, Closed
Facilities: ATM attached, Wheelchair access, Kids' Zone
Opotiki Branch
120 Church Street, Opotiki
Opening hours:
Monday-Friday, 9:00AM – 4:30PM
Saturday-Sunday, Closed
Facilities: ATM attached, Wheelchair access, Kids' Zone
Warkworth Branch
11 Neville Street, Warkworth
Opening hours:
Monday-Friday, 9:00AM – 4:30PM
Saturday-Sunday, Closed
Facilities: Wheelchair access, Free WiFi, Kids' Zone
Wellsford Branch
197 Rodney Street, Wellsford, 0900
Opening hours:
Monday-Friday, 9:00AM – 4:30PM
Saturday-Sunday, Closed
Facilities: ATM attached, Wheelchair access, Kids' Zone
Ohakune Branch
19 Goldfinch Street, Ohakune
Opening hours:
Monday-Friday, 9:00AM – 4:30PM
Saturday-Sunday, Closed
Facilities: ATM attached, Wheelchair access, Kids' Zone
New Plymouth Branch
13 Devon St E, New Plymouth 4310, New Zealand
Opening hours:
Monday-Friday, 9:00AM – 4:30PM
Saturday-Sunday, Closed
Facilities: ATM attached, Wheelchair access, Kids' Zone
Stratford Branch
269 Broadway, Stratford
Opening hours:
Monday-Friday, 9:00AM – 4:30PM
Saturday-Sunday, Closed
Facilities: ATM attached, Wheelchair access, Kids' Zone
Wairoa Branch
198 Marine Parade, Wairoa
Opening hours:
Monday-Tuesday, Thursday-Friday, 9:00AM – 4:30PM
Wednesday, 9:30AM – 4:30PM
Saturday-Sunday, Closed
Facilities: ATM attached, Wheelchair access, Kids' Zone
Napier Branch
126 Hastings Street, Napier
Opening hours:
Monday-Friday, 9:00AM – 5:00PM
Saturday-Sunday, Closed
Facilities: ATM attached, Wheelchair access, Extended hours, Kids' Zone
Taradale Branch
284 Gloucester St, Taradale, Napier 4112, New Zealand
Opening hours:
Monday-Friday, 9:00AM – 5:00PM
Saturday-Sunday, Closed
Facilities: ATM attached, Wheelchair access, Extended hours, Kids' Zone
Gisborne Branch
70 Gladstone Rd, Gisborne 4010, New Zealand
Opening hours:
Monday, Wednesday-Friday, 9:00AM – 4:30PM
Tuesday, 9:30AM – 4:30PM
Saturday-Sunday, Closed
Facilities: ATM attached, Wheelchair access, Kids' Zone
Hawera Branch
73 Princes Street, Hawera
Opening hours:
Monday-Friday, 9:00AM – 4:30PM
Saturday-Sunday, Closed
Facilities: Wheelchair access, Kids' Zone
Hastings Branch
117 Heretaunga Street West, Hastings Central, Hastings, 4122
Opening hours:
Monday-Friday, 9:00AM – 5:00PM
Saturday-Sunday, Closed
Facilities: ATM attached, Co-located with Air New Zealand Holidays, Wheelchair access, Extended hours, Kids' Zone
Dargaville Branch
69 Victoria Street, Dargaville, Kaipara, 0310
Opening hours:
Monday-Friday, 9:00AM – 4:30PM
Saturday-Sunday, Closed
Facilities: ATM attached, Wheelchair access, Kids' Zone