Full list of BNZ Branches in Taranaki, New Zealand with contact information, branch locations and addresses.
Taranaki, the western point on the North Island. The home of
epic surfing, great events and legendary mountains
. Oh, and also a few BNZ branches.
Below you'll find
all the brances in the Taranaki region
that belong to BNZ with some extra details attached about them.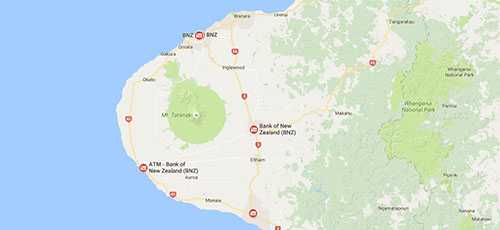 BNZ Branches in Taranaki
Type first letters of branch name, location name or address:
Stratford Branch
269 Broadway, Stratford
Opening hours:
Monday-Friday, 9:00AM – 4:30PM
Saturday-Sunday, Closed
Facilities: ATM attached, Wheelchair access, Kids' Zone
New Plymouth Branch
13 Devon St E, New Plymouth 4310, New Zealand
Opening hours:
Monday-Friday, 9:00AM – 4:30PM
Saturday-Sunday, Closed
Facilities: ATM attached, Wheelchair access, Kids' Zone
Hawera Branch
73 Princes Street, Hawera
Opening hours:
Monday-Friday, 9:00AM – 4:30PM
Saturday-Sunday, Closed
Facilities: Wheelchair access, Kids' Zone