Full list of BNZ Branches in Otago, New Zealand with contact information, branch locations and addresses.
Otago, situated in between Southland, Canterbury, and the West Coast. A lovely area featuring the
scenic rich towns of Dunedin and Queenstown.
See below for all the branches BNZ has in areas such as
Alexandra, Cromwell, Balclutha, and many more.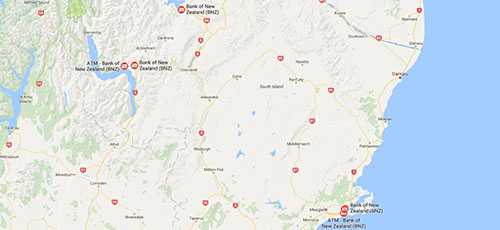 BNZ Branch Locations in Otago
Type first letters of branch name, location name or address:
Alexandra Branch
45 Tarbert Street, Alexandra
Opening hours:
Monday-Friday, 9:00AM – 5:00PM
Saturday-Sunday, Closed
Facilities: ATM attached, Wheelchair access, Extended hours, Kids' Zone
Mosgiel Branch
132 Gordon Road, Mosgiel, Dunedin, 9024
Opening hours:
Monday-Friday, 9:00AM – 4:30PM
Saturday-Sunday, Closed
Facilities: ATM attached, Wheelchair access, Kids' Zone
Cromwell Branch
1 The Mall, Cromwell, Central Otago, 9310
Opening hours:
Monday-Friday, 9:00AM – 4:30PM
Saturday-Sunday, Closed
Facilities: ATM attached, Wheelchair access, Kids' Zone
University of Otago Branch
58 Albany Street, Dunedin
Opening hours:
Monday, Wednesday-Friday, 9:00AM – 4:30PM
Tuesday, 9:30AM – 4:30PM
Saturday-Sunday, Closed
Facilities: ATM attached, Wheelchair access, Kids' Zone
Dunedin Branch
98 George Street, Dunedin Central, Dunedin, 9016
Opening hours:
Monday-Friday, 9:00AM – 4:30PM
Saturday-Sunday, Closed
Facilities: ATM attached, Wheelchair access, Free WiFi
South Dunedin Branch
159 King Edward Street, Dunedin South, Dunedin, 9012
Opening hours:
Monday-Friday, 9:00AM – 4:30PM
Saturday, Closed
Sunday, Closed
Facilities: ATM attached, Wheelchair access, Extended hours
Balclutha Branch
53 Clyde Street, Balclutha
Opening hours:
Monday-Tuesday, Thursday-Friday, 9:00AM – 4:30PM
Wednesday, 9:30AM – 4:30PM
Saturday-Sunday, Closed
Facilities: ATM attached, Wheelchair access, Kids' Zone
Remarkables Park Branch
Shop 11, Dart House, 11 Remarkables Park Town Centre, Hawthorne Drive, Frankton, Queenstown, 9300
Opening hours:
Monday-Friday, 9:30AM – 5:30PM
Saturday, 9:30AM – 3:30PM
Sunday, Closed
Facilities: ATM attached, Wheelchair access, Extended hours, Free WiFi, Kids' Zone
Oamaru Branch
149 Thames Street, Oamaru Central, Waitaki, 9400
Opening hours:
Monday-Friday, 9:00AM – 4:30PM
Saturday-Sunday, Closed
Facilities: ATM attached, Wheelchair access, Kids' Zone
Wanaka Branch
93 Ardmore Street, Wanaka 9305
Opening hours:
Monday-Tuesday, Thursday-Friday, 9:00AM – 5:00PM
Wednesday, 9:30AM – 5:00PM
Saturday, 10:00AM – 1:00PM
Sunday, Closed
Facilities: ATM attached, Wheelchair access, Extended hours, Free WiFi, Kids' Zone
Gore Branch
38 Main St, Gore 9710, New Zealand
Opening hours:
Monday-Tuesday, Thursday-Friday, 9:00AM – 4:30PM
Wednesday, 9:30AM – 4:30PM
Saturday-Sunday, Closed
Facilities: ATM attached, Wheelchair access, Extended hours, Kids' Zone
Queenstown Branch
11 Rees Street, Queenstown
Opening hours:
Monday-Friday, 9:00AM – 4:30PM
Saturday-Sunday, Closed
Facilities: ATM attached, Wheelchair access, Free WiFi, Kids' Zone
Queenstown (Currency Exchange) Branch
11 Rees Street, Queenstown
Opening hours:
Monday-Friday, 9:00AM – 8:00PM
Saturday-Sunday, 10:30AM – 6:30PM, Extended hours