Full list of BNZ Branches in Canterbury, New Zealand with contact information, branch locations and addresses.
The
Canterbury region of New Zealand
. Located on the East coast of the South Island, it plays home to the famous city of Christchurch.
It also plays home to
quite a few BNZ Branches
. If you'd like to, search the list below to find one today.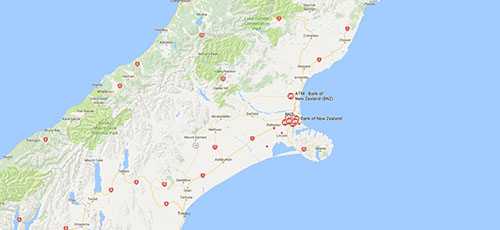 Canterbury, NZ - BNZ Branch Locations
Type first letters of branch name, location name or address:
Rolleston Branch
70 Rolleston Drive, Rolleston, Selwyn, 7614
Opening hours:
Monday-Wednesday, Friday, 9:00AM – 4:30PM
Thursday, 9:00AM – 6:00PM
Saturday, 9:00AM – 12:00PM
Sunday, Closed
Facilities: ATM attached, Wheelchair access, Extended hours, Kids' Zone
Hornby Branch
Shop 127, The Hub, 418 Main South Road, Hornby, Christchurch
Opening hours:
Monday-Friday, 9:00AM – 4:30PM
Saturday, 9:00AM – 1:00PM
Sunday, Closed
Facilities: ATM attached, Wheelchair access, Extended hours, Kids' Zone
Christchurch International Airport (self serve store) Branch
Landside,Christchurch Airport, 27 Durey Road, Christchurch, 8053
Opening hours:
Monday-Friday, 8:00AM – 6:00PM
Saturday-Sunday, 10:00AM – 2:00PM
– Foreign cash and cashing cheques NOT available
– ATM & Change available 24 hours a day, 7 days a week
Facilities: ATM attached, Wheelchair access, Extended hours, Self serve – Change machine & ATM
Upper Riccarton Branch
Shop 1 No 1 Bush Inn Centre Cnr Waimairi & Riccarton Rds, Upper Riccarton, Christchurch 8041, New Zealand
Opening hours:
Monday-Friday, 9:00AM – 4:30PM
Saturday, 10:00AM – 3:00PM
Sunday, Closed
Facilities: ATM attached, Wheelchair access, Extended hours, Free WiFi
Russley Branch
5 Sir William Pickering Drive, Russley, Christchurch 8053
Opening hours:
Monday-Friday, 9:00AM – 4:30PM
Saturday-Sunday, Closed
Facilities: ATM attached, Wheelchair access
Riccarton Branch
Shop S140 Westfield Riccarton, Rotherham St, Riccarton, Christchurch 8041, New Zealand
Opening hours:
Monday-Friday, 9:00AM – 5:00PM
Saturday, 10:00AM – 4:00PM
Sunday, 10:00AM – 2:00PM
Facilities: ATM attached, Wheelchair access, Extended hours, Free WiFi, Kids' Zone
Barrington Branch
Shop 56, 256 Barrington Street, Spreydon, Christchurch 8024
Opening hours:
Monday-Saturday, 9:00AM – 4:30PM
Sunday, Closed
Facilities: ATM attached, Wheelchair access, Extended hours, Free WiFi, Kids' Zone, Self serve – Change machine & ATM
Papanui Branch
S32 Northlands Mall, 55 Main North Rd, Papanui,Christchurch
Opening hours:
Monday-Friday, 9:00AM – 5:00PM
Saturday, 9:00AM – 4:30PM
Sunday, 10:00AM – 2:00PM
Facilities: ATM attached, Co-located with Air New Zealand Holidays, Wheelchair access, Extended hours, Kids' Zone
Christchurch Public Hospital Branch
2 Riccarton Avenue, Christchurch Central, Christchurch City
Opening hours:
Monday-Friday, 9:00AM – 4:00PM
Saturday-Sunday, Closed
Facilities: Wheelchair access
ReSTART Branch
114 Cashel Street,City Mall, Christchurch Central, Christchurch 8011
Opening hours:
Monday-Friday, 9:30AM – 4:30PM
Saturday, 10:00AM – 4:00PM
Sunday, Closed
Facilities: ATM attached, Wheelchair access, Extended hours
Colombo Branch
363 Colombo St, Sydenham, Christchurch 8023, New Zealand
Opening hours:
Monday-Friday, 9:00AM – 4:30PM
Saturday-Sunday, Closed
Facilities: ATM attached, Wheelchair access, Kids' Zone
Cashel and Fitzgerald Branch
114 Fitzgerald Ave, Linwood 8011, New Zealand
Opening hours:
Monday-Friday, 9:00AM – 4:30PM
Saturday-Sunday, Closed
Facilities: ATM attached, Wheelchair access, Extended hours
Leeston Branch
67 High Street, Leeston
Opening hours:
Monday-Friday, 9:00AM – 4:30PM
Saturday, 9:00AM – 12:00PM
Sunday, Closed
Facilities: ATM attached, Wheelchair access, Extended hours
The Palms Branch
Shop 29 & 31 The Palms, 24 Marshland Rd, Shirley, Christchurch 8061, New Zealand
Opening hours:
Monday-Friday, 9:00AM – 5:00PM
Saturday, 9:00AM – 4:00PM
Sunday, 10:00AM – 2:00PM
Facilities: ATM attached, Wheelchair access, Extended hours, Kids' Zone
Ferrymead Branch
Unit 9, 2 Waterman Pl, Ferrymead 8023, New Zealand
Opening hours:
Monday-Friday, 9:00AM – 4:30PM
Saturday-Sunday, Closed
Facilities: ATM attached, Wheelchair access, Free WiFi, Kids' Zone
Lyttelton Branch
56 London St, Lyttelton, Christchurch, 8082, New Zealand
Opening hours:
Monday-Friday, 10:00AM – 3:00PM
Saturday-Sunday, Closed
Facilities: ATM attached, Wheelchair access
New Brighton Branch
99 Seaview Road, New Brighton, Christchurch 8061, New Zealand
Opening hours:
Monday-Friday, 9:00AM – 4:30PM
Saturday-Sunday, Closed
Facilities: ATM attached, Wheelchair access, Kids' Zone
Kaiapoi Branch
107 Williams Street, Kaiapoi, Christchurch
Opening hours:
Monday-Friday, 9:00AM – 4:30PM
Saturday-Sunday, Closed
Facilities: ATM attached, Wheelchair access, Kids' Zone
Rangiora Branch
74 High Street, Rangiora
Opening hours:
Monday-Friday, 9:00AM – 4:30PM
Saturday, 9:30AM – 12:30PM
Sunday, Closed
Facilities: ATM attached, Wheelchair access, Extended hours, Kids' Zone
Akaroa Branch
73 Rue Lavaud, Akaroa, Christchurch, 7520
Opening hours:
Monday, Wednesday-Friday, 9:00AM – 4:30PM
Tuesday, 9:30AM – 4:30PM
Saturday-Sunday, Closed
Facilities: ATM attached, Wheelchair access
Methven Branch
91 Main Street, Methven, Ashburton, 7730
Opening hours:
Monday-Friday, 9:00AM – 4:30PM
Saturday-Sunday, Closed
Facilities: ATM attached, Wheelchair access, Kids' Zone
Ashburton Branch
304 East Street, Ashburton
Opening hours:
Monday-Friday, 9:00AM – 4:30PM
Saturday, 10:00AM – 1:00PM
Sunday, Closed
Facilities: ATM attached, Wheelchair access, Extended hours
Geraldine Branch
18 Talbot Street, Geraldine
Opening hours:
Monday-Friday, 9:00AM – 4:30PM
Saturday-Sunday, Closed
Facilities: ATM attached, Wheelchair access, Kids' Zone
Hanmer Springs Branch
49 Amuri Avenue, Hanmer Springs, Hurunui District
Opening hours:
Monday-Friday, 10:00AM – 2:00PM
Saturday-Sunday, Closed
Facilities: Wheelchair access
Timaru Branch
247 Stafford St, Timaru 7910, New Zealand
Opening hours:
Monday-Friday, 9:00AM – 4:30PM
Saturday-Sunday, Closed
Facilities: ATM attached, Wheelchair access, Kids' Zone