The full list of BNZ ATMs in Otago, New Zealand with location addresses.
Welcome to Otago! The region of the famous
Queenstown and Dunedin
towns of New Zealand. You'll find some great scenery and activities around this area. But what do you need for most activities? Money.
And where do you get money? From a
BNZ ATM of course!
See below for a full list of all their locations in Otago.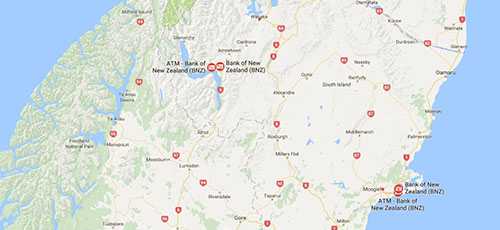 Otagoa BNZ ATM Locations
Type first letters of branch name, location name or address:
Alexandra ATM
45 Tarbert St, Alexandra
Available 24/7
Accepts deposits
Talking ATM
Cromwell ATM
1 The Mall, Cromwell
Available 24/7
Accepts deposits
Talking ATM
Alexandra New World ATM
89 Centennial Ave, Alexandra
Mon-Sun: 8:00am – 8:00pm
8 language options
Cromwell New World ATM
2 Murray Terrace, Cromwell
Available 24/7
Talking ATM
Balclutha ATM
53 Clyde St, Balclutha
Available 24/7
Accepts deposits
Balclutha New World ATM
9 Lanark St, Balclutha
Mon-Sun: 8:00am – 8:00pm
Dunedin ATM
98 George St, Dunedin
Available 24/7
Accepts deposits
Talking ATM
South Dunedin ATM
159 King Edward St, South Dunedin, Dunedin
Available 24/7
Accepts deposits
Talking ATM
University of Otago ATM
58 Albany St, Dunedin
Available 24/7
Accepts deposits
Talking ATM
Centre City New World ATM
133 Great King St, Dunedin
Mon-Sun: 7:30am – 10:00pm
Countdown Dunedin South ATM
307 Andersons Bay Rd, Dunedin
Mon-Sun: 7:00am – 10:00pm
Talking ATM
Dunedin Casino ATM
118 High St, Dunedin
Available 24/7
Talking ATM
Dunedin Hospital ATM
201 Great King St, Dunedin Central, Dunedin
Available 24/7
Talking ATM
Dunedin Meridian Mall ATM
267–287 George St, Dunedin
Mon-Thu: 9:00am – 6:00pm
Fri: 9:00am – 8:00pm
Sat: 9:00am – 5:00pm
Sun: 10:00am – 5:00pm
Gardens New World ATM
6 North Rd, North East Valley, Dunedin
Mon-Sun: 7:30am – 9:00pm
Talking ATM
South Dunedin Pak'nSave ATM
86 Hillside Rd, South Dunedin, Dunedin
Mon-Sun: 7:00am – 10:00pm
Talking ATM
Mosgiel ATM
132 Gordon Rd, Mosgiel, Dunedin
Available 24/7
Accepts deposits
Mosgiel New World ATM
10 Hartstonge Ave, Mosgiel
Mon-Sun: 8:00am – 9:00pm
Talking ATM
Oamaru ATM
80 Thames St, Oamaru
Available 24/7
Talking ATM
Accepts deposits
Northside New World ATM
402 Thames Highway, Oamaru North, Oamaru
Available 24/7
Oamaru New World ATM
72 Wansbeck St, Oamaru
Mon-Sun: 7:00am – 9:00pm
Port Chalmers New World ATM
65 George St, Port Chalmers, Dunedin
Available 24/7
Talking ATM
Queenstown ATM
11 Rees St, Queenstown
Available 24/7
Accepts deposits
8 language options
Remarkables Park ATM
11 Hawthorne Drive, Shop 11 Dart House, Remarkables Park Town Centre, Frankton
Available 24/7
Wanaka ATM
93 Ardmore St, Wanaka
Available 24/7
Talking ATM
Accepts deposits
Caltex Wanaka ATM
19 Ardmore St, Wanaka
Available 24/7
Queenstown Casino ATM
24 Beach St, Queenstown
Available 24/7
Talking ATM
Queenstown Fresh Choice ATM
64 Gorge Rd, Queenstown
Available 24/7
Shotover Street ATM
47 Shotover St, Queenstown
Available 24/7
Talking ATM
The Oak Arrowtown ATM
46-50 Buckingham St, Arrowtown
Available 24/7
Talking ATM
Wakatipu New World ATM
Hawthorne Drive, Frankton, Queenstown
Mon-Sun: 8:00am – 9:00pm
Talking ATM
Wanaka New World ATM
20 Dunmore St, Wanaka
Mon-Sun: 7:30am – 9:00pm