Full list of ASB Bank Branches in North Island, New Zealand, with contact information, branch locations and addresses.
The
Auckland Savings Bank (ASB's original name)
, has a total of 35 branches around the North Island. Regions that
aren't included
are Auckland and Northland. You can find these
here
, and
here
, respectively.
Search through the 35 branches listed below by typing in the region, suburb, street name, or
even the branch name if you happened to know it
. All of it's information is here for your convenience.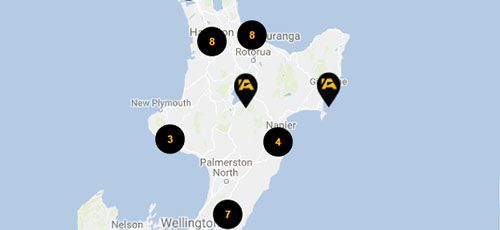 ASB Branches - North Island
Type first letters of branch name, location name or address:
Anglesea Clinic Branch
Gate 1, 3 Thackeray Street, Hamilton Lake, Hamilton 3204
Call: 07 838 5712
Fax Number:      07 838 2083
Postal Address: PO Box 35, Shortland Street, Auckland 1140
Branch Code:     3152
Opening Hours
Monday               9:00am 4:30pm
Tuesday               9:00am 4:30pm
Wednesday        9:00am 4:30pm
Thursday             9:00am 4:30pm
Friday    9:00am 4:30pm
Bayfair Branch
Bayfair Shopping Centre, Shop 906, CORNER Maunganui and Girven Road, Mount Maunganui 3116
Call: 07 571 3810
Fax Number:      07 572 9273
Postal Address: PO Box 35, Shortland Street, Auckland 1140
Branch Code:     3217
Opening Hours
Monday               9:00am 4:30pm
Tuesday               9:00am 4:30pm
Wednesday        9:00am 4:30pm
Thursday             9:00am 7:00pm
Friday    9:00am 4:30pm
Saturday              9:00am 4:30pm
Sunday 10:00am               4:00pm
Public holiday    10:00am               4:00pm
Cambridge Branch
69 Victoria Street, Cambridge, 3434
Call: 07 838 5890
Fax Number:      07 823 9370
Postal Address: PO Box 35, Shortland Street, Auckland 1140
Branch Code:     3268
Opening Hours
Monday               9:00am 4:30pm
Tuesday               9:00am 4:30pm
Wednesday        9:00am 4:30pm
Thursday             9:00am 4:30pm
Friday    9:00am 4:30pm
Cameron Road Tauranga Branch
518 Cameron Road, Tauranga 3110
Call : 07 571 4730
Fax Number:      07 571 0386
Postal Address: PO Box 35, Shortland Street, Auckland 1140
Branch Code:     3633
Opening Hours
Monday               9:00am 4:30pm
Tuesday               9:00am 4:30pm
Wednesday        9:00am 4:30pm
Thursday             9:00am 4:30pm
Friday    9:00am 4:30pm
Chartwell Branch
Shop S260, Chartwell Shopping Centre, Corner Comries and Hukanui Road, Chartwell, Hamilton 3210
Call: 07 838 5705
Fax Number:      07 855 0719
Postal Address: PO Box 35, Shortland Street, Auckland 1140
Branch Code:     3171
Opening Hours
Monday               9:00am 4:30pm
Tuesday               9:00am 4:30pm
Wednesday        9:00am 4:30pm
Thursday             9:00am 7:00pm
Friday    9:00am 4:30pm
Saturday              9:00am 4:30pm
Sunday 10:00am               4:00pm
Gisborne Branch
170 Gladstone Road, Gisborne 4010
Call: 06 869 0065
Fax Number:      06 867 6783
Postal Address: PO Box 35, Shortland Street, Auckland 1140
Branch Code:     3170
Opening Hours
Monday               9:00am 4:30pm
Tuesday               9:00am 4:30pm
Wednesday        9:00am 4:30pm
Thursday             9:00am 4:30pm
Friday    9:00am 4:30pm
Hamilton Branch
500 Victoria Street, Hamilton Central, Hamilton 3204
Call: 07 838 1008
Fax Number:      07 838 0005
Postal Address: PO Box 35, Shortland Street, Auckland 1140
Branch Code:     3122
Opening Hours
Monday               9:00am 4:30pm
Tuesday               9:00am 4:30pm
Wednesday        9:00am 4:30pm
Thursday             9:00am 4:30pm
Friday    9:00am 4:30pm
Hastings Branch
117 Market Street North, Hastings 4122
Call: 06 873 7870
Fax Number:      06 878 8266
Postal Address: PO Box 35, Shortland Street, Auckland 1140
Branch Code:     3145
Opening Hours
Monday               9:00am 4:30pm
Tuesday               9:00am 4:30pm
Wednesday        9:00am 4:30pm
Thursday             9:00am 4:30pm
Friday    9:00am 4:30pm
Havelock North Branch
7 Napier Road, Havelock North 4130
Call: 06 872 7420
Fax Number:      06 875 8071
Postal Address: PO Box 35, Shortland Street, Auckland 1140
Branch Code:     3439
Opening Hours
Monday               9:00am 4:30pm
Tuesday               9:00am 4:30pm
Wednesday        9:00am 4:30pm
Thursday             9:00am 4:30pm
Friday    9:00am 4:30pm
Johnsonville Branch
Shop 47, 34 Johnsonville Road, Johnsonville, Wellington 6037
Call: 04 494 9140
Fax Number:      04 478 5384
Postal Address: PO Box 35, Shortland Street, Auckland 1140
Branch Code:     3223
Opening Hours
Monday               9:00am 4:30pm
Tuesday               9:00am 4:30pm
Wednesday        9:00am 4:30pm
Thursday             9:00am 7:00pm
Friday    9:00am 4:30pm
Saturday              9:00am 4:30pm
Sunday 10:00am               4:00pm
Public holiday    10:00am               4:00pm
Kilbirnie Branch
35 Bay Road Kilbirnie, Wellington 6022
Call: 04 495 4063
Fax Number:      04 387 9257
Postal Address: PO Box 35, Shortland Street, Auckland 1140
Branch Code:     3481
Opening Hours
Monday               9:00am 4:30pm
Tuesday               9:00am 4:30pm
Wednesday        9:00am 4:30pm
Thursday             9:00am 4:30pm
Friday    9:00am 4:30pm
Lambton Quay Branch
174-180 Lambton Quay, Te Aro, Wellington 6011
Call: 04 499 0864
Fax Number:      04 495 2102
Postal Address: PO Box 35, Shortland Street, Auckland 1140
Branch Code:     3140
Opening Hours
Monday               9:00am 4:30pm
Tuesday               9:00am 4:30pm
Wednesday        9:00am 4:30pm
Thursday             9:00am 4:30pm
Friday    9:00am 4:30pm
Saturday              10:00am               2:00pm
Masterton Branch
Corner King & Queen Street, Masterton 3290
Call: 06 370 6000
Fax Number:      06 370 8142
Postal Address: PO Box 35, Shortland Street, Auckland 1140
Branch Code:     3290
Opening Hours
Monday               9:00am 4:30pm
Tuesday               9:00am 4:30pm
Wednesday        9:00am 4:30pm
Thursday             9:00am 4:30pm
Friday    9:00am 4:30pm
Matamata Branch
53 Arawa Street, Matamata, 3400
Call: 07 888 4630
Fax Number:      07 888 4621
Postal Address: PO Box 35, Shortland Street, Auckland 1140
Branch Code:     3438
Opening Hours
Monday               9:00am 4:30pm
Tuesday               9:00am 4:30pm
Wednesday        9:00am 4:30pm
Thursday             9:00am 4:30pm
Friday    9:00am 4:30pm
Morrinsville Branch
213 Thames Street, Morrinsville 3300
Call: 07 889 8780
Fax Number:      07 889 0715
Postal Address: PO Box 35, Shortland Street, Auckland 1140
Branch Code:     3437
Opening Hours
Monday               9:00am 4:30pm
Tuesday               9:00am 4:30pm
Wednesday        9:00am 4:30pm
Thursday             9:00am 4:30pm
Friday    9:00am 4:30pm
Mt Maunganui Branch
143 Maunganui Road, Mount Maunganui 3116
Call: 07 571 4871
Fax Number:      07 572 0580
Postal Address: PO Box 35, Shortland Street, Auckland 1140
Branch Code:     3486
Opening Hours
Monday               9:00am 4:30pm
Tuesday               9:00am 4:30pm
Wednesday        9:00am 4:30pm
Thursday             9:00am 4:30pm
Friday    9:00am 4:30pm
Napier Branch
Corner Hastings and Emerson Street, Napier South, Napier, 4110
Call: 06 834 1286
Fax Number:      06 834 1242
Postal Address: PO Box 35, Shortland Street, Auckland 1140
Branch Code:     3144
Opening Hours
Monday               9:00am 4:30pm
Tuesday               9:00am 4:30pm
Wednesday        9:00am 4:30pm
Thursday             9:00am 4:30pm
Friday    9:00am 4:30pm
Palmerston North Branch
Palmerston North Plaza, 366 Church Street, Palmerston North 4410
Call: 06 355 0371
Fax Number:      06 355 0342
Postal Address: PO Box 35, Shortland Street, Auckland 1140
Branch Code:     3143
Opening Hours
Monday               9:00am 4:30pm
Tuesday               9:00am 4:30pm
Wednesday        9:00am 4:30pm
Thursday             9:00am 7:00pm
Friday    9:00am 4:30pm
Saturday              9:00am 4:30pm
Sunday 10:00am               4:00pm
Papamoa Branch
Tenancy 1, Lot 5, Centa Max 34, Gravatt Road, Papamoa 3118
Call: 07 571 7230
Fax Number:      09 300 8850
Postal Address: PO Box 35, Shortland Street, Auckland 1140
Branch Code:     3407
Opening Hours
Monday               9:00am 4:30pm
Tuesday               9:00am 4:30pm
Wednesday        9:00am 4:30pm
Thursday             9:00am 4:30pm
Friday    9:00am 4:30pm
Paraparaumu Branch
Coastlands Parade, Coastlands Shopping Centre, 3-9 Amohia Street, Paraparaumu 5032
Call: 04 296 6029
Fax Number:      04 298 4329
Postal Address: PO Box 35, Shortland Street, Auckland 1140
Branch Code:     3157
Opening Hours
Monday               9:00am 4:30pm
Tuesday               9:00am 4:30pm
Wednesday        9:00am 4:30pm
Thursday             9:00am 4:30pm
Friday    9:00am 4:30pm
Saturday              9:00am 1:00pm
Porirua – North City Branch
Shop 202, North City Shopping Centre, Titahi Bay Road, Porirua, 5022
Call: 04 494 9130
Fax Number:      04 238 9794
Postal Address: PO Box 35, Shortland Street, Auckland 1140
Branch Code:     3254
Opening Hours
Monday               9:00am 4:30pm
Tuesday               9:00am 4:30pm
Wednesday        9:00am 4:30pm
Thursday             9:00am 7:00pm
Friday    9:00am 4:30pm
Saturday              9:00am 4:30pm
Sunday 10:00am               4:00pm
Public holiday    10:00am               4:00pm
Queensgate Branch
Shop S14,3 Westfield ShoppingTown, Queensgate, CORNER Bunny & Knights Road, Lower Hutt 5010
Call: 04 560 9152
Fax Number:      04 570 6062
Postal Address: PO Box 35, Shortland Street, Auckland 1140
Branch Code:     3142
Opening Hours
Monday               9:00am 4:30pm
Tuesday               9:00am 4:30pm
Wednesday        9:00am 4:30pm
Thursday             9:00am 7:00pm
Friday    9:00am 4:30pm
Saturday              9:00am 4:30pm
Sunday 10:00am               4:00pm
Public holiday    10:00am               4:00pm
Rotorua Branch
Shop G4, 1166 Amohau Street, Rotorua 3010
Call: 07 350 0214
Fax Number:      07 349 1282
Postal Address: PO Box 35, Shortland Street, Auckland 1140
Branch Code:     3155
Opening Hours
Monday               9:00am 4:30pm
Tuesday               9:00am 4:30pm
Wednesday        9:00am 4:30pm
Thursday             9:00am 4:30pm
Friday    9:00am 4:30pm
Taradale Branch
276 Gloucester Street, Taradale, Napier 4112
Call: 06 844 0214
Fax Number:      06 845 3297
Postal Address: PO Box 35, Shortland Street, Auckland 1140
Branch Code:     3479
Opening Hours
Monday               9:00am 4:30pm
Tuesday               9:00am 4:30pm
Wednesday        9:00am 4:30pm
Thursday             9:00am 4:30pm
Friday    9:00am 4:30pm
Taupo Branch
34 Heuheu Street, Taupo 3330
Call: 07 376 0063
Fax Number:      07 378 8003
Postal Address: PO Box 35, Shortland Street, Auckland 1140
Branch Code:     3162
Opening Hours
Monday               9:00am 4:30pm
Tuesday               9:00am 4:30pm
Wednesday        9:00am 4:30pm
Thursday             9:00am 4:30pm
Friday    9:00am 4:30pm
Tauranga Branch
2/1 Spring Street (CBD Red Square), Tauranga 3030
Call: 07 579 0125
Fax Number:      09 300 8850
Postal Address: PO Box 35, Shortland Street, Auckland 1140
Branch Code:     3146
Opening Hours
Monday               9:00am 4:30pm
Tuesday               9:00am 4:30pm
Wednesday        9:00am 4:30pm
Thursday             9:00am 4:30pm
Friday    9:00am 4:30pm
Te Awamutu Branch
Unit 17, 168 George Street, Te Awamutu 3800
Call: 07 872 0711
Fax Number:      07 870 2118
Postal Address: PO Box 35, Shortland Street, Auckland 1140
Branch Code:     3134
Opening Hours
Monday               9:00am 4:30pm
Tuesday               9:00am 4:30pm
Wednesday        9:00am 4:30pm
Thursday             9:00am 4:30pm
Friday    9:00am 4:30pm
Te Rapa Branch
Tenancy S110, The Base, Maahanga Road, Te Rapa, Hamilton 3200
Call: 07 834 4420
Fax Number:      07 849 7013
Postal Address: PO Box 35, Shortland Street, Auckland 1140
Branch Code:     3454
Opening Hours
Monday               9:00am 4:30pm
Tuesday               9:00am 4:30pm
Wednesday        9:00am 4:30pm
Thursday             9:00am 7:00pm
Friday    9:00am 4:30pm
Saturday              9:00am 4:30pm
Sunday 10:00am               4:00pm
Public holiday    10:00am               4:00pm
Terrace End Branch
342 Broadway Avenue, Terrace End, Palmerston North 4414
Call: 06 350 3790
Fax Number:      06 350 0045
Postal Address: PO Box 35, Shortland Street, Auckland 1140
Branch Code:     3442
Opening Hours
Monday               9:00am 4:30pm
Tuesday               9:00am 4:30pm
Wednesday        9:00am 4:30pm
Thursday             9:00am 4:30pm
Friday    9:00am 4:30pm
Upper Hutt Branch
Shop 100, The Mall, Main Street, Upper Hutt 5018
Call: 04 472 6640
Fax Number:      04 528 5136
Postal Address: PO Box 35, Shortland Street, Auckland 1140
Branch Code:     3478
Opening Hours
Monday               9:00am 4:30pm
Tuesday               9:00am 4:30pm
Wednesday        9:00am 4:30pm
Thursday             9:00am 4:30pm
Friday    9:00am 4:30pm
Saturday              9:00am 4:30pm
Sunday 10:00am               4:00pm
Waikato University Branch
The University of Waikato, Shops Gate 1, Knighton Road, Hillcrest, Hamilton 3216
Call: 07 838 5701
Fax Number:      07 859 3343
Postal Address: PO Box 35, Shortland Street, Auckland 1140
Branch Code:     3249
Opening Hours
Monday               9:00am 4:30pm
Tuesday               9:00am 4:30pm
Wednesday        9:00am 4:30pm
Thursday             9:00am 4:30pm
Friday    9:00am 4:30pm
Waiuku Branch
48 Queen Street, Waiuku 2123
Call: 09 237 0051
Fax Number:      09 235 8031
Postal Address: PO Box 35, Shortland Street, Auckland 1140
Branch Code:     3052
Opening Hours
Monday               9:00am 4:30pm
Tuesday               9:00am 4:30pm
Wednesday        9:00am 4:30pm
Thursday             9:00am 4:30pm
Friday    9:00am 4:30pm
Wanganui Branch
113 Victoria Avenue, Wanganui 4500
Call: 06 349 0062
Fax Number:      06 348 8266
Postal Address: PO Box 35, Shortland Street, Auckland 1140
Branch Code:     3163
Opening Hours
Monday               9:00am 4:30pm
Tuesday               9:00am 4:30pm
Wednesday        9:00am 4:30pm
Thursday             9:00am 4:30pm
Friday    9:00am 4:30pm
Whakatane Branch
202 The Strand, Whakatane 3120
Call: 07 306 0016
Fax Number:      07 607 7133
Postal Address: PO Box 35, Shortland Street, Auckland 1140
Branch Code:     3253
Opening Hours
Monday               9:00am 4:30pm
Tuesday               9:00am 4:30pm
Wednesday        9:00am 4:30pm
Thursday             9:00am 4:30pm
Friday    9:00am 4:30pm
Willis St Branch
54-56 Willis Street, Wellington 6011
Call:            04 495 2050
Fax Number:      04 495 2052
Postal Address: PO Box 35, Shortland Street, Auckland 1140
Branch Code:     3141
Opening Hours
Monday               9:00am 4:30pm
Tuesday               9:00am 4:30pm
Wednesday        9:00am 4:30pm
Thursday             9:00am 4:30pm
Friday    9:00am 4:30pm