Full list of ASB ATMs in Auckland, New Zealand with location addresses.
If you've taken a look at their
branches in Auckland
, you'll have guessed as well that there will be plenty of ATMs as well.
And you guessed right. There are a simply crazy amount of their ATMs in the Auckland region. We have counted a total of
191 ATMs
.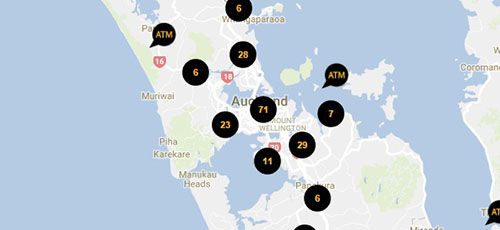 Find ASB ATMs in Auckland
Type first letters of branch name, location name or address:
277 Broadway ATM
277 Broadway, Newmarket, Auckland, 1023
Air NZ Domestic Terminal ATM
Domestic Terminal, Auckland Airport, Auckland, 2022
Albany Branch ATM
219 Don McKinnon Drive, Albany, Auckland, 0632
Albany Branch ATM
219 Don McKinnon Drive, Albany, Auckland, 0632
Albany Branch ATM
219 Don McKinnon Drive, Albany, Auckland, 0632
Albany Highway ATM
357 Albany Highway, Albany, Auckland, 0632
Alexandra Park Raceway ATM
Alexandra Park, Greenlane West, Auckland, 1023
ASB Showgrounds ATM
217 Greenlane West, Epsom, Auckland, 1051
Atrium on Elliot ATM
21-25 Elliot Street, Auckland, 1010
Auckland Airport Retail Centre ATM
Corner John Goulter and George Bolt Memorial Drives, Manukau, Auckland, 2022
Auckland Branch ATM
Corner Queen and Wellesley Streets, Auckland City, Auckland, 1010
Auckland Hospital ATM
2 Park Rd, Grafton, Auckland, 1023
Auckland Hospital Branch ATM
2 Park Road, Grafton, Auckland, 1023
Auckland International Airport (external under the stairs) ATM
Ray Emery Drive, Auckland, 2022
Auckland University ATM
Symonds Street, Auckland, 1010
Auckland University Branch ATM
6-18 Symonds Street, Auckland, 1010
Bader Drive (1) ATM
46 Mangere Town Centre, Bader Drive, Auckland, 2022
Bader Drive (2) ATM
46 Mangere Town Centre, Bader Drive, Auckland, 2022
Balmoral ATM
674 Dominion Road, Mt Eden, Auckland, 1041
Beachlands ATM
36 Wakelin Road, Beachlands, Auckland, 2018
Belmont ATM
137 Lake Road, Belmont, Auckland, 0622
Birkenhead Branch ATM
22 Birkenhead Avenue, Birkenhead, Auckland, 0626
Blockhouse Bay Branch ATM
519 Blockhouse Bay Road, Blockhouse Bay, Auckland, 0600
Botany Downs Branch ATM
588 Chapel Road, East Tamaki, Auckland, 2013
Botany Downs Branch ATM
588 Chapel Road, East Tamaki, Auckland, 2013
Botany Downs Branch ATM
588 Chapel Road, East Tamaki, Auckland, 2013
Botany Junction Branch ATM
277 Te Irirangi Drive, Botany, Auckland, 2016
Broadway – Route 66 ATM
182 Broadway, Newmarket, Auckland, 1023
Broadway Branch ATM
334 – 335 Broadway, Newmarket, Auckland, 1023
Browns Bay Branch ATM
38 Clyde Road, Browns Bay, Auckland, 0630
Carrington Unitec ATM
139 Carrington Road, Mt Albert, Auckland, 1025
Casino Sky City (Level 8) ATM
72/78 Victoria St West, Auckland, 1010
Casino Sky City (Outside Gaming Floor) ATM
72/78 Victoria St West, Auckland, 1010
Casino Sky City (Outside Main Gaming Room) ATM
72/78 Victoria St West, Auckland, 1010
Casino Sky City (Outside Play Bar 3) ATM
72/78 Victoria St West, Auckland, 1010
Clendon Shopping Centre ATM
Roscommon Road, Clendon, Auckland, 2103
Constellation Drive ATM
70 Parkway Drive, Mairangi Bay, Auckland, 0632
Constellation Drive Branch ATM
70 Parkway Drive, Mairangi Bay, Auckland, 0632
Customs Street ATM
Cnr Customs and Commerce Streets, Auckland, 1010
Devonport Branch ATM
21 Victoria Road, Devonport, Auckland, 0624
Dominion Road Branch ATM
296 Dominion Road, Mt Eden, Auckland, 1024
DressSmart Onehunga ATM
151 Arthur Street, Onehunga, Auckland, 1061
Drury ATM
232 Great South Road (cnr Waihoehoe Rd), Drury, Auckland, 2113
Eastridge Branch ATM
215 Kepa Road, Mission Bay, Auckland, 1071
Eden Park ASB Stand ATM
56 Walters Rd, Mt Eden, Auckland, 1025
Ellerslie Branch ATM
133 Main Highway, Ellerslie, Auckland, 1051
Flatbush ATM
112 Dawson Road, Flatbush, Auckland, 2023
Glen Eden Branch ATM
188 West Coast Road, Glen Eden, Auckland, 0602
Glen Innes (1) ATM
54 Mayfair Place, Glen Innes, Auckland, 1072
Glendene Shopping Centre ATM
Cnr Great North Road & Te Atatu Road, Glendene, Auckland, 0602
Glenfield Branch ATM
442 Glenfield Road, Glenfield, Auckland, 0629
Glenfield Branch ATM
442 Glenfield Road, Glenfield, Auckland, 0629
Goldfields Shopping Centre ATM
100 Mary Street, Thames, 3500
Green Bay ATM
Godley Road, Green Bay, Auckland, 0604
Greenlane Branch ATM
381 Great South Road, Greenlane, Auckland, 1051
Greenlane Hospital ATM
214 Green Lane West, Epsom, Auckland, 1051
Greenwoods Corner Branch ATM
Corner Pah and Manukau Roads, Epsom, Auckland, 1023
Greenwoods Corner Branch ATM
Corner Pah and Manukau Roads, Epsom, Auckland, 1023
Helensville ATM
40 Commercial Street, Helensville, 0800
Henderson ATM
5 Vitasovich Ave, Henderson, Auckland, 0612
High Street ATM
Corner Victoria & High Streets, Auckland, 1010
Highland Park Branch ATM
Corner Aviemore Drive and Pakuranga Road, Highland Park, Auckland, 2010
Howick Branch ATM
85 Picton Street, Howick, Auckland, 2014
Howick Branch ATM
85 Picton Street, Howick, Auckland, 2014
Hunters Plaza ATM
217 Great South Road, Papatoetoe, Auckland, 2025
Hunters Plaza Branch ATM
217 Great South Road, Papatoetoe, Auckland, 2025
Hunters Plaza Food Court ATM
217 Great South Road, Papatoetoe, Auckland, 2025
Kelston Shopping Centre ATM
Corner West Coast and Great North Road, Kelston, Auckland, 0602
Kumeu ATM
80 Main Road, Kumeu, 0810
Lincoln North Mall ATM
Lincoln Road, Henderson, Auckland, 0610
Lincoln Road Branch ATM
288-290 Lincoln Road, Henderson, Auckland, 0610
Lincoln Road Henderson ATM
155 Lincoln Road, Henderson, Auckland, 0610
Lunn Avenue Branch ATM
80 Lunn Avenue, Mt Wellington, Auckland, 1072
Lynfield Branch ATM
570-580 Hillsborough Road, Lynfield, Auckland, 1041
Lynnmall Branch ATM
Lynmall 3058 Great North Road, New Lynn, Auckland, 0600
Lynnmall Shopping Centre ATM
3058 Great North Road, New Lynn, Auckland, 0600
Mairangi Bay ATM
427 Beach Road, Mairangi, Auckland, 0630
Mangere Bridge Branch ATM
19 Coronation Road, Mangere Bridge, Auckland, 2022
Mangere East ATM
Corner Massey and Yates Roads, Mangere East, Auckland, 2024
Manukau City Branch ATM
Great South Road and Manukau Station Road, Manukau, Auckland, 2104
Manurewa Branch ATM
214 Great South Road, Manurewa, Auckland, 2102
Maritime Museum ATM
Corner Quay and Hobson Streets, Auckland, 1010
Meadowbank Branch ATM
Shop 2 35-47 St Johns Rd, St Johns, Auckland, 1072
Meadowlands Shopping Centre ATM
112 Whitford Road, Howick, Auckland, 2014
Middlemore Hospital ATM
100 Hospital Road, Papatoetoe, Auckland, 2025
Milford Branch ATM
24 Milford Road, Milford, Auckland, 0620
Mission Bay ATM
71 Tamaki Drive, Mission Bay, Auckland, 1071
Mobil Albany ATM
Oteha Valley Road, Albany, Auckland, 0632
Mobil Avondale ATM
2060 Great North Road, Avondale, Auckland, 0600
Mobil Clendon ATM
459 Roscommon Road, Clendon, Auckland, 2103
Mobil Constellation Drive ATM
48 Constellation Drive, Mairangi Bay, Auckland, 0632
Mobil Don Buck ATM
Cnr Don Buck & Triangle Road, Massey, Auckland, 0614
Mobil Glen Innes ATM
304 Apirana Ave, Glen Innes, Auckland, 1072
Mobil Greenlane ATM
Cnr Peach Parade & Greenlane East Rd, Greenlane, Auckland, 1050
Mobil Highland Park ATM
Cnr Pakuranga Road & Aberfeldy Ave, Highland Park, Auckland, 2010
Mobil Hillside Road ATM
140 – 146 Wairau Road, Glenfield, Auckland, 0627
Mobil Karangahape Road ATM
Cnr Karangahape Rd and Ponsonby Road, Ponsonby, Auckland, 1011
Mobil Lincoln Road ATM
325 Lincoln Road, Henderson, Auckland, 0610
Mobil Mercer ATM
State Highway 1, Mercer, Mercer, 2474
Mobil Mount Roskill ATM
Corner Dominion and Mt Albert Roads, Mt Roskill, Auckland, 1041
Mobil Papakura ATM
347 Great South Road, Papakura, Auckland, 2112
Mobil Red Beach ATM
Corner Red Beach & Bay Street, Red Beach, Hibiscus Coast, 0932
Mobil Royal Heights ATM
130-136 Royal Road, Royal Heights, Auckland, 0614
Mobil Smales Road ATM
30-40 Smales Road, East Tamaki, Auckland, 2013
Mobil Sunnybrae ATM
Corner Sunnybrae and Northcote Roads, Northcote, Auckland, 0627
Mobil Titirangi Road ATM
26 Titirangi Road, New Lynn, Auckland, 0600
Mobil Verrans Corner ATM
30 Verran Road, Birkdale, Auckland, 0626
Mobil Walmsley Road ATM
101 Walmsley Road, Mangere, Auckland, 2022
Mobil Wiri ATM
62 Wiri Station Road, Wiri, Auckland, 2104
Mt Albert Branch ATM
875 New North Road, Mt Albert, Auckland, 1025
Mt Eden (1) ATM
414 Mt Eden Road, Mt Eden, Auckland, 1024
Mt Roskill South ATM
1484D Dominion Road Extension, Mt Roskill South, Auckland, 1041
New World Howick ATM
Cnr Union Road and Wellington Street, Howick, Auckland, 2014
New World Victoria Park ATM
College Hill, Freemans Bay, Auckland, 1011
New World Whangaparaoa ATM
580 Whangaparaoa Road, Stanmore Bay, Auckland, 0932
North Shore Hospital ATM
124 Shakespeare Road, Westlake, Auckland, 0622
North Wharf Branch ATM
12 Jellicoe Street, Auckland, 1010
Northcote ATM
55 Pearn Crescent, Northcote, Auckland, 0627
NorthWest Branch ATM
7 Fred Taylor Drive, Massey, Auckland, 814
Onehunga Branch ATM
168 Onehunga Mall Road, Onehunga, Auckland, 1061
Onehunga Branch ATM
168 Onehunga Mall Road, Onehunga, Auckland, 1061
Orewa Branch ATM
4 Hillary Square, Orewa, 0931
Otahuhu Branch ATM
Corner Great South Road and King Street, Otahuhu, Auckland, 1062
Otara ATM
Otara Town Centre, Otara, Auckland, 2023
Owairaka ATM
228 Stoddard Road, Owairaka, Auckland, 1041
Pak N Save Albany ATM
Don McKinnon Drive, Albany, Auckland, 0632
Pak N Save Botany ATM
501 Ti Rakau Drive, Botany, Auckland, 2013
Pak N Save Mangere ATM
44 Orly Ave, Mangere, Auckland, 2022
Pak N Save Manukau ATM
67 Cavendish Drive, Manukau, Auckland, 2104
Pak N Save Papakura ATM
331-345 Great South Road, Papakura, Auckland, 2112
Pak N Save Silverdale ATM
20 Hibiscus Coast Highway, Silverdale, Auckland, 0932
Pak N Save Sylvia Park ATM
286 Mt Wellington Highway, Mt Wellington, Auckland, 1060
Pak N Save Wairau Road ATM
Wairau Road, Glenfield, Auckland, 0627
Pakuranga Branch ATM
Pepler Street, Pakuranga, Auckland, 2010
Pakuranga Branch ATM
Pepler Street, Pakuranga, Auckland, 2010
Pakuranga Plaza ATM
Corner Ti Rakau Drive and Pakuranga Road, Pakuranga, Auckland, 2010
Panmure Salvation Army ATM
159 Queens Road, Panmure, Auckland, 1072
Papakura Branch ATM
166-168 Great South Road, Papakura, Auckland, 2110
Papatoetoe (1) ATM
64 St George Street, Papatoetoe, Auckland, 2025
Parnell Branch ATM
145 Parnell Road, Parnell, Auckland, 1052
Penrose Road ATM
278 Penrose Road, Mt Wellington, Auckland, 1060
Ponsonby ATM
106 Ponsonby Road, Ponsonby, Auckland, 1011
Ponsonby Branch ATM
309 Ponsonby Road, Ponsonby, Auckland, 1011
Ponsonby Branch ATM
309 Ponsonby Road, Ponsonby, Auckland, 1011
Pt Chevalier ATM
1104 Great North Road, Point Chevalier, Auckland, 1022
Pt Chevalier Branch ATM
1210 Great North Road, Point Chevalier, Auckland, 1022
Pukekohe ATM
14-28 Subway Road, Pukekohe, 2120
Pukekohe Branch ATM
7 Wesley Street, Pukekohe, 2120
Queen Street AMP Building ATM
220 Queen Street, Corner Queen and Victoria Streets, Auckland, 1010
Remuera Branch ATM
360 – 370 Remuera Road, Remuera, Auckland, 1050
Ronwood Ave Branch ATM
19 Ronwood Ave, Manukau, Auckland, 2104
Ronwood Ave Drive Up ATM
19 Ronwood Ave, Manukau, Auckland, 2104
Roskill Branch ATM
981 – 983 Dominion Road, Mt Roskill, Auckland, 1041
Royal Heights Plaza ATM
138 Royal Road, Massey, Auckland, 0614
Royal Oak Branch ATM
703 Manukau Road, Royal Oak, Auckland, 1023
Sandringham ATM
573 Sandringham Road, Sandringham, Auckland, 1025
Shore City ATM
Corner Lake Road and Como Street, Takapuna, Auckland, 0622
Silverdale Branch ATM
16 Wainui Road, Silverdale, 0993
Smales Farm Branch ATM
Q4 Building 78-94 Taharoto Rd, Takapuna, Auckland, 0622
South Te Atatu ATM
249 Edmonton Road, Te Atatu South, Auckland, 0610
St Heliers Branch ATM
393 Tamaki Drive, St Heliers, Auckland, 1071
St Lukes Branch ATM
80 St Lukes Road, St Lukes, Auckland, 1025
St Lukes Cinema End ATM
80 St Lukes Road, St Lukes, Auckland, 1025
St Lukes Shopping Centre Movie Food Court ATM
80 St Lukes Road, St Lukes, Auckland, 1025
Starship Hospital ATM
Level 3 Outpatients Building, Park Road Grafton, Auckland, 1023
Sunnynook Shopping Centre ATM
Sunnynook Road, Sunnynook, Auckland, 0620
Swanson Shopping Centre ATM
264 Swanson Road, Henderson, Auckland, 0610
Sylvia Park Branch ATM
286 Mt Wellington Highway, Mt Wellington, Auckland, 1060
Sylvia Park Branch ATM
286 Mt Wellington Highway, Mt Wellington, Auckland, 1060
Sylvia Park Branch ATM
286 Mt Wellington Highway, Mt Wellington, Auckland, 1060
Takanini Branch ATM
30 Walters Road, Takanini, Auckland, 2112
Takanini Retail Centre ATM
230 Great South Road, Takanini, Auckland, 1051
Takapuna Branch ATM
41- 45 Hurstmere Road, Takapuna, Auckland, 0622
Te Atatu Peninsula ATM
544B Te Atatu Road, Te Atatu, Auckland, 0610
Three Kings ATM
Three Kings Plaza, Mt Albert, Auckland, 1042
Ti Rakau Branch ATM
500 Ti Rakau Drive, Botany, Auckland, 2013
Ti Rakau Drive Up ATM
500 Ti Rakau Drive, Botany, Auckland, 2013
Titirangi ATM
406 Titirangi Road, Titirangi, Auckland, 0604
Torbay ATM
1054 Beach Road, Torbay, Auckland, 0630
Tuakau ATM
28 George Street, Tuakau, 2121
Waiheke Branch ATM
120 Ocean View Road, Oneroa, Waiheke, 1971
Wairau Park Branch ATM
8 – 12 Link Drive, Wairau Park, Auckland, 0627
Wairau Park Branch ATM
8 – 12 Link Drive, Wairau Park, Auckland, 0627
Waiuku Branch ATM
48 Queen Street, Waiuku, 2120
Wellesley Street West ATM
135 Albert Street, Auckland, 1010
Westcity Branch ATM
15 Edsel Street, Henderson, Auckland, 0612
Westcity Branch ATM
15 Edsel Street, Henderson, Auckland, 0612
Westcity Branch ATM
15 Edsel Street, Henderson, Auckland, 0612
Westcity Plaza Henderson ATM
Westcity Westfield 15 Edsel Street, Henderson, Auckland, 0612
Westfield Albany (outside Farmers) ATM
219 Don McKinnon Drive, Albany, Auckland, 0632
Westfield Albany Food Court ATM
219 Don McKinnon Drive, Albany, Auckland, 0632
Westfield Manukau Shopping Centre – Cinema end ATM
Great South Road and Manukau Station Road, Manukau, Auckland, 2104
Westgate Shopping Centre ATM
1-5 Fernhill Drive, Massey, Auckland, 0614
Whangamata ATM
505 Port Road, Whangamata, 3620
Whangaparaoa Branch ATM
719 Whangaparaoa Rd, Whangaparaoa, 0932
Whitianga ATM
65 Albert St, Whitianga, 3510
Wyndham Branch ATM
138-142 Queen Street, Auckland, 1010