The full list of ANZ branches in South Island, New Zealand with with contact information, branch locations and addresses.
At our count, ANZ has a total of 50 branches across the
South Island of New Zealand
. Nearly half of those are in the city of Christchurch. This correlates exactly with the population, as South Island with a total of around 1 million people, Christchurch comes is at around 400,000.
Other cities/towns featured here include
Greymouth, Nelson, Blenheim, Wanaka, Timaru, Alexandra, Dunedin, and Invercargill.
To search for a specific ANZ branch in the South Island, simply head to the text box below and start typing. Branch locations will automatically start searching.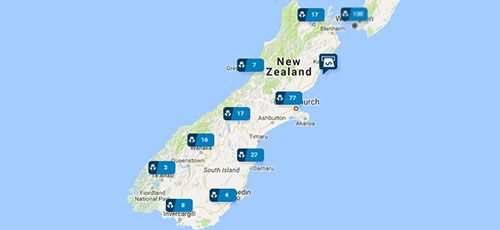 ANZ South Island Branches
Type first letters of branch name, location name or address:
ANZ Branch Alexandra
Alexandra, South Island
37 Tarbert Street
9320, New Zealand
Phone: 0800 269 296
Branch Number: 060917
ANZ Branch Balclutha
Balclutha, South Island
33 Clyde Street
9230 New Zealand
Phone: 0800 269 296
Branch Number: 060919
ANZ Branch Queenstown
Queenstown, South Island
Corner Ballarat & Camp Street
9300, New Zealand
Phone: 0800 269 296
Branch Number: 060949
ANZ Branch Banking Centre Invercargill
Invercargill, South Island
55 Kelvin St
9810, New Zealand
Phone: 0800 269 296
Branch Number: 060925
ANZ Branch Blenheim
Blenheim, South Island
40-42 Market Street
7201, New Zealand
Phone: 0800 269 296
Branch Number: 060601
ANZ Branch Christchurch Central
Christchurch Central, South Island
665 Colombo Street
New Zealand
Phone: 0800 269 296
Branch Number: 010797
ANZ Branch Timaru
Timaru, South Island
211 Stafford St
7910, New Zealand
Phone: 0800 269 296
Branch Number: 010886
ANZ Branch Church Street Timaru
Timaru, South Island
15-17 Church Street
7910, New Zealand
Phone: 0800 269 296
Branch Number: 060889
ANZ Branch Cromwell
Cromwell, South Island
No. 3 The Mall
9310, New Zealand
Phone: 0800 269 296
Branch Number: 060921
ANZ Branch Dunedin
Dunedin, South Island
71 George Street
9016, New Zealand
Phone: 0800 269 296
Branch Number: 060901
ANZ Branch North Dunedin
Dunedin, South Island
295-299 George St
9016, New Zealand
Phone: 0800 269 296
Branch Number: 060909
ANZ Branch George Street
Dunedin, South Island
300 George St
9016, New Zealand
Phone: 0800 269 296
Branch Number: 010906
ANZ Branch Geraldine
Geraldine, South Island
72 Talbot Street
7930, New Zealand
Phone: 0800 269 296
Branch Number: 010841
ANZ Branch Gore
Gore, South Island
Corner Main & Mersey Street
9710, New Zealand
Phone: 0800 269 296
Branch Number: 060923
ANZ Branch Greymouth
Greymouth, South Island
89 Mackay Street
7805, New Zealand
Phone: 0800 269 296
Branch Number: 060845
ANZ Branch Hokitika (CLOSING 11 NOVEMER 2016)
Hokitika, South Island
111 Revell St
7810, New Zealand
Phone: 0800 269 296
Branch Number: 060849
ANZ Branch Kaiapoi
Kaiapoi, South Island
168 Williams Street
7630, New Zealand
Phone: 0800 269 296
Branch Number: 010853
ANZ Branch Milton
Milton, South Island
113 Union Street
9220, New Zealand
Phone: 0800 269 296
Branch Number: 060936
ANZ Branch Mosgiel
Mosgiel, South Island
Corner Gordon Road & Cargill Street
9024, New Zealand
Phone: 0800 269 296
Branch Number: 060939
ANZ Branch Nelson
Nelson, South Island
248 Trafalgar St
7010, New Zealand
Phone: 0800 269 296
Branch Number: 060705
ANZ Branch Oamaru
Oamaru, South Island
11 Thames Street
9400, New Zealand
Phone: 0800 269 296
Branch Number: 060941
ANZ Branch Otago University
North Dunedin, South Island
62 Albany Street
9016, New Zealand
Phone: 0800 269 296
Branch Number: 060942
ANZ Branch Rangiora
Rangiora, South Island
85 High Street
7400, New Zealand
Phone: 0800 269 296
Branch Number: 010877
ANZ Branch Richmond
Richmond, South Island
258 Queen Street
7020, New Zealand
Phone: 0800 269 296
Branch Number: 060958
ANZ Branch Riverton
Riverton, South Island
130 Palmerston Street
9822, New Zealand
Phone: 0800 269 296
Branch Number: 060954
ANZ Branch South Dunedin
Dunedin, South Island
165 King Edward Street
9012, New Zealand
Phone: 0800 269 296
Branch Number: 060911
ANZ Branch Ashburton
Ashburton, South Island
150-158 Tancred Street
7700, New Zealand
Phone: 0800 269 296
Branch Number: 060837
ANZ Branch Temuka
Temuka, South Island
93 King Street
7920, New Zealand
Phone: 0800 269 296
Branch Number:
ANZ Branch Twizel
Twizel, South Island
22 Market Place
7901, New Zealand
Phone: 0800 269 296
Branch Number: 060966
ANZ Branch Waimate
Waimate, South Island
110 Queen Street
7924, New Zealand
Phone: 0800 269 296
Branch Number: 010893
ANZ Branch Westport
Westport, South Island
155 Palmerston Street
7825, New Zealand
Phone: 0800 269 296
Branch Number: 010623
ANZ Branch Sydenham Christchurch
Sydenham Christchurch, South Island
385 Colombo Street
8023, New Zealand
Phone: 0800 269 296
Branch Number: 060829
ANZ Branch Addington Christchurch
Addington Christchurch, South Island
269 Lincoln Rd
8024, New Zealand
Phone: 0800 269 296
Branch Number: 010798
ANZ Branch Avonhead Christchurch
Avonhead Christchurch, South Island
Shop 10, Avonhead Mall, 218 Withells Road
8042, New Zealand
Phone: 0800 269 296
Branch Number: 010653
ANZ Branch Fitzgerald Avenue Christchurch
Christchurch, South Island
64 Fitzgerald Avenue
8011, New Zealand
Phone: 0800 269 296
Branch Number: 060807
ANZ Branch Hornby Christchurch
Hornby Christchurch, South Island
Shop 61, The Hub, 418 Main South Road
80421 New Zealand
Phone: 0800 269 296
Branch Number: 010811
ANZ Branch Merivale Christchurch
Merivale Christchurch, South Island
175-177 Papanui Road
8014, New Zealand
Phone: 0800 269 296
Branch Number: 010825
ANZ Branch New Brighton Christchurch
New Brighton Christchurch, South Island
101-103 Seaview Road
8083, New Zealand
Phone: 0800 269 296
Branch Number: 010815
ANZ Branch Earth Revocery Centre New Brighton
New Brighton Christchurch, South Island
184 Shaw Avenue
8083, New Zealand
Phone: 0800 269 296
Branch Number: 060870
ANZ Branch Northwood Christchurch
Northwood Christchurch, South Island
1 Radcliffe Road
8051, New Zealand
Phone: 0800 269 296
Branch Number: 010325
ANZ Branch Papanui Christchurch
Papanui Christchurch, South Island
20 Main North Road
8053, New Zealand
Phone: 0800 269 296
Branch Number: 060817
ANZ Branch Northlands Christchurch
Papanui Christchurch, South Island
Shop 73, Northlands Mall, 55 Main North Road
8052, New Zealand
Phone: 0800 269 296
Branch Number: 010635
ANZ Branch Riccarton Christchurch
Riccarton Christchurch, South Island
97 Riccarton Road
8041, New Zealand
Phone: 0800 269 296
Branch Number: 060821
ANZ Branch The Palms Shirley Christchurch
Shirley Christchurch, South Island
Shop 100, The Palms Mall, 24-26 Marshland Road
8061, New Zealand
Phone: 0800 269 296
Branch Number: 060879
ANZ Branch Upper Riccarton Christchurch
Upper Riccarton Christchurch, South Island
322 Riccarton Road
8041, New Zealand
Phone: 0800 269 296
Branch Number: 060665
ANZ Branch Woolston Christchurch
Woolston Christchurch, South Island
987 Ferry Road
8023, New Zealand
Phone: 0800 269 296
Branch Number: 0833