The full list of ANZ branches in Bay of Plenty, New Zealand with with contact information, branch locations and addresses.
Bay of Plenty is the region in New Zealand that is famously known for its scenic volcanic landscapes and Maori villages. The bay originally got its name from the great James Cook after he discovered its abundant amount of resources.
ANZ aren't as abundant here as they are in say,
Auckland
, for example. But they still have a few branches here.
To be exact, ANZ have 12 branches in Bay of Plenty
.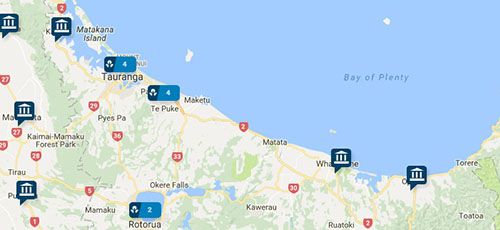 Bay of Plenty - ANZ Branches
Type first letters of branch name, location name or address:
ANZ Branch Whakatane
Whakatane, Bay of Plenty
236-238 The Strand
3120, New Zealand
Phone: 0800 269 296
Branch Number: 060489
ANZ Branch Opotiki
Opotiki, Bay of Plenty
108 Church Street
3122, New Zealand
Phone: 0800 269 296
Branch Number: 010387
ANZ Branch Katikati
Katikati, Bay of Plenty
Main Road
3129, New Zealand
Phone: 0800 269 296
Branch Number: 060299
ANZ Branch Rotorua
Rotorua, Bay of Plenty
Corner Fenton & Hinemoa Street
3010, New Zealand
Phone: 0800 269 296
Branch Number: 060413
ANZ Branch Rotorua Mall
Rotorua, Bay of Plenty
1128 Amohau Street
3010, New Zealand
Phone: 0800 269 296
Branch Number: 010414
ANZ Branch Papamoa
Papamoa, Bay of Plenty
34 Gravatt Road
3118, New Zealand
Phone: 0800 269 296
Branch Number: 060566
ANZ Branch Bayfair
Mt Maunganui, Bay of Plenty
Corner Maunganui & Girven Road
3116, New Zealand
Phone: 0800 269 296
Branch Number: 010475
ANZ Branch Te Puke
Te Puke, Bay of Plenty
Corner Jellicoa & Jocelyn Street
3119, New Zealand
Phone: 0800 269 296
Branch Number: 060453
ANZ Branch Tauranga Crossing
Tauriko, Bay of Plenty
2 Taurikura Drive
3110, New Zealand
Phone: 0800 269 296
Branch Number: 0322
ANZ Branch Bethlehem
Bethlehem, Bay of Plenty
18 Bethlehem Street
3110, New Zealand
Phone: 0800 269 296
Branch Number: 010478
ANZ Branch Tauranga
Tauranga, Bay of Plenty
1 Grey Street
3110, New Zealand
Phone: 0800 269 296
Branch Number: 060433
ANZ Branch Eleventh Avenue
Tauranga, Bay of Plenty
Corner Eleventh Avenue & John Street
3110, New Zealand
Phone: 0800 269 296
Branch Number: 060491